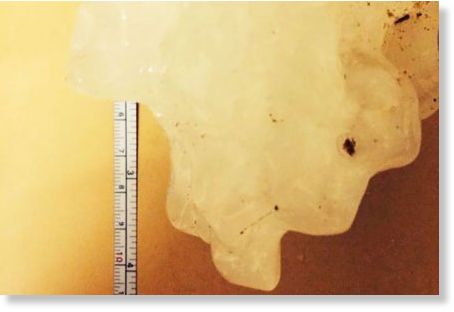 Weather watchers around the world have been stunned by giant chunks of ice that smashed an outback Queensland town in recent days.
Hailstones up to 12cm in diameter smashed cars and windows and left lawns checkered in the western downs town of Chinchilla during a freak storm on Saturday afternoon.
The downpour that stunned the state has now attracted interest overseas, with many in the US shocked at the "weird" weather that no one saw coming.
Some have pointed out the hailstones were about the same size as the small marsupials the town shares a name with.
"Shocking footage," wrote Keith Estiler, a New York City resident who shared video of the giant balls of ice bouncing off an oval in Chinchilla.
"Meanwhile in Australia..." another person said.
While intense weather is a typical part of Australian life, the Chinchilla storm that has foreigners talking also managed to surprise locals.
Marina Baker and her children were sprayed with glass when their car was pelted with projectiles at the local sporting fields.

"We had the back window smashed in (and after) about 30 seconds of moving one came through and landed in the back seat," she told ABC.

"The kids were on the floor screaming. We had my sister and husband in the front and they (were) trying to get the kids away from the glass.

"There were cars everywhere around us (with) windows just breaking everywhere."
Another local, Vicki Muhling, shared a photo of one the stones which caused havoc on her property next to a tape measuring 12cm in length.
The region's mayor, Ray Brown, told ABC nobody was injured in the freak storm, though property damage was widespread.
He said some 1300 homes were left without power with another 3000 customers experiencing supply interruptions.
However, draught-stricken farmers in the area welcomed the "much needed rain".
The Bureau of Meteorology said the intensity of the storm was a result of two troughs which caused heavy instability.