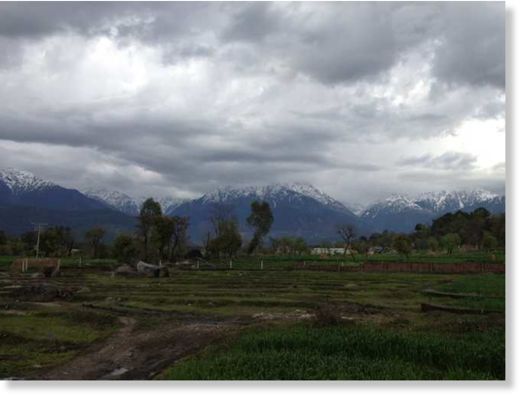 Widespread rains battered large swathes of North India on Sunday bringing mercury down by several notches, even as it claimed 14 lives and damaged crops in several regions.
Twelve people were killed in Rajasthan due to rain, lightning and hailstorms, which also destroyed Rabi crops in the state, while two were killed in Uttarakhand in rockslide triggered by heavy rain.
Cold conditions returned to Delhi after the showers as the day temperature plummeted to 19.6 degree Celsius, nine degrees below normal. According to the Meteorological department, the city received 3.6 mm rains till 5.30pm this evening. The minimum temperature was 16.6 degrees, two notches above normal, while maximum was registered at 19.6 degree. On Saturday, the maximum was recorded at 27.3 degrees.
In Rajasthan, besides those dead,
scores of cattle perished while several people were also injured in thunderstorms in the last 24 hours,
officials said on Sunday.
Six people were killed in Bundi district, two each in Rajsamand and Sawaimadhopur districts and one each in Bikaner and Ajmer districts, police said.

Incessant rains, hailstorm and winter's revival have not only affected normal life but also caused damage to standing Rabi crops in entire Rajasthan, a MeT official said.
Meanwhile, higher reaches of Himachal Pradesh received a fresh spell of snow while rain lashed mid and lower hills. Avalanche threat loomed large over high-altitude tribal areas above 2,500 feet as melting of snow and glacier movement could accelerate in next few days.
Rohtang and Kunzam Pass, Pin Parvati valley and Chitkul and other high-altitude tribal areas received 10 cm to 20 cm of snow while Keylong and Kalpa recorded 3 cm and 2 cm of snow.
High-altitude tribal areas reeled under biting cold wave conditions with minimum temperatures ranging between
minus 12 and minus 18 degrees.
Keylong and Kalpa in Lahaul and Spiti and Kinnaur districts recorded a low of minus 5.9 degree and minus 2 degree, followed by Chamba 1.0 degree. Tourist resorts Dalhousie, Manali and Shimla recorded 2.6 degree, 4.4 degree and 5.3 degree respectively.
Source: Press Trust of India