Ongoing snowfall reached about 2 meters on Saturday on Uludağ Mountain, in what has been a suprise with spring right around the corner.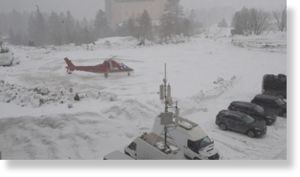 The 2,543-meter mountain, located in Turkey's western province of Bursa, has witnessed one of its best seasons in the year with the occupacy rate in hotels going at 100 percent.
The snowfall also hit the 2014 Uludağ Economic Summit featuring prominent members of the Turkish business world as well as Deputy Prime Minister Ali Babacan.