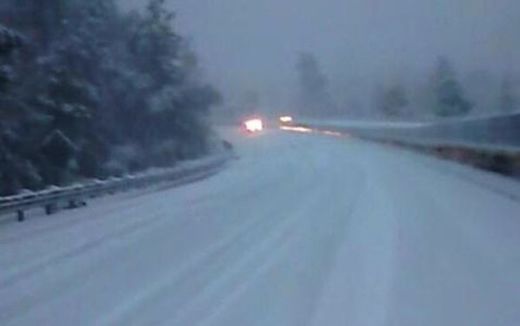 Cold front delivers snow and hail to central Mexico
Snow closed some roads yesterday in Michoacán, but today the wintry conditions have moved to the State of Mexico and Puebla, closing the Mexico City-Puebla freeway early this morning.
Officials closed the highway about 4:30am between the San Marcos toll booth, on the outskirts of the Federal District, to Río Frío in the State of Mexico, near the Puebla border.
The Federal Highways and Bridges Agency, Capufe, issued a warning via Twitter at 7:51 to urge drivers to use alternate routes. The 5 de Mayo freeway has also been closed, according to another report.
As many as 18,000 residents of the communities of Río Frío, Llano Grande and Avila Camacho are reported to have been cut off by the closure of the highway.
Yesterday, Civil Protection officials in Michoacán described as very rare the sight of snow on various hills in the municipalities of Paracho, Nahuatzén, Cherán and Zacapu.
The Zacapu-Zamora highway was closed for a while due to a heavy hailstorm at about 1:00pm, blanketing the road with four centimeters of ice and causing at least four accidents.
Officials said that with the exception of the Pico de Tancítaro, with an altitude of 3,485 meters, the sight of snow on five hills in the region was uncommon.
The National Meteorological Service said the center of the country is being affected by cold front #41, and the combination of cold air and Pacific moisture are bringing about colder temperatures, rain and snow.
Sources:
CNN
,
El Diario