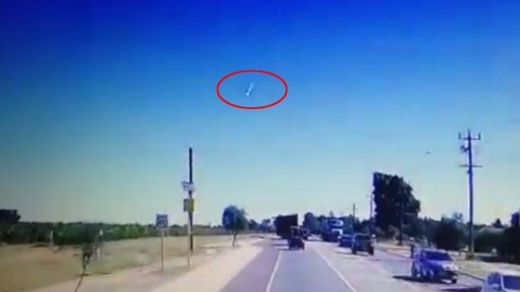 Dozens of people in Perth and WA's South West have reported a bright light in the sky, believed to have been small meteor.
Callers flooded 720 ABC Perth's Morning program claiming to have seen the celestial event in locations ranging from Gidgegannup, on Perth's eastern outskirts, to Margaret River in the South West.
Talkback callers described seeing an intense white light flashing across the sky about 9:15am.
"I was just going over the Mount Henry Bridge [in Perth]... and there was this silver, sort of shooting thing that came down and just vaporised in a burst over the river," caller Gillian said.
Hilary was driving on the South West Highway near Binningup when she saw the object.
"A silver thing flashed at an angle - not like it was gravity, but
going as though it was propelled into the ground
," she said.
ABC gardening expert Sabrina Hahn said she thought someone had been letting off fireworks.
"
It was a really, really intense bright light. It was incredible because it was such an intense light
," she said.
Meteors rarely visible in daylight, academic says
Curtin University planetary scientist Phil Bland said it was likely to have been a meteor.
"What these things typically are is a chunk of rock entering our atmosphere," he said.
"They come in really fast, so maybe 20 kilometres a second, and then mostly burn up. But this one sounds so big, there's every chance a chunk of it may have made it to the ground as a meteorite.
"A meteorite is an extra-terrestrial material on the earth's surface, so if it lands on earth it's a meteorite.
"The thing you see in the sky might be a meteor or a fireball - that's the light that comes from that."
He said it was rare for a meteor to be visible in daylight.
"That must have been a pretty big object to be visible in the daytime," he said.
Read the rest here.