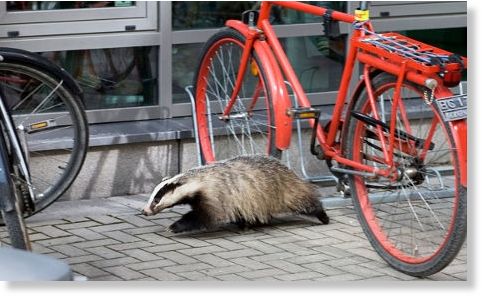 A luxury hotel in the Swedish capital was on lockdown early Friday due to "a crazy or stressed-out badger"
refusing to let anyone near the door, police said.
Stockholm police said the badger was spotted near the entrance of the Radisson Blu hotel about 5 a.m.
Friday and authorities were called when the animal acted aggressive toward anyone who attempted to get in or out of the building.
"A crazy or stressed-out badger is preventing the staff and clients at a major hotel from leaving their cars, and from picking up their bags," a report on the Stockholm Police website said.
The report said police summoned a game warden to the scene, but the badger was gone by the time the official arrived. The hotel was on lockdown for about 40 minutes.
"Nightlife in Stockholm is beastly," Albin Naverberg of the Stockholm Police told newspaper
DN
.
Naverberg said the badger may have been stressed from waking early from hibernation. He said the animal was likely on the hunt for some food.
The badger apparently has good taste -- the Stockholm hotel was named the "Radisson Blu Hotel of the Year" Friday morning.