A new storm will spread a swath of snow and sleet spanning more than 1,500 miles from northern Texas and Oklahoma to southeastern New York state and Massachusetts during Wednesday into Thursday.
Daily activities will be affected for close to 100 million people.
Major travel disruptions are in store, ranging from snow-clogged roads to many flight delays and cancellations. The flight disruptions will likely extend well beyond areas directly affected by the storm as crews and aircraft are displaced.
The atmosphere is gearing up for a rare event. The new winter storm will occur during a press of cold air invading the Central and Eastern states in the wake
a storm that produced snow and ice Tuesday night and rain Wednesday
.
According to AccuWeather.com Chief Meteorologist Elliot Abrams, "Usually when cold air follows a storm, the atmosphere just dries out."
"Instead of a sweep of cold, dry air, we get the cold, but not the dry this time."
Rain will change to snow and sleet along much of the 1,500-mile swath as the new storm rides northeastward.
While snowfall will be light in northern Texas, Oklahoma and Kansas, the snow will fall heavily at times from the middle part of the Mississippi Valley to the Ohio Valley, central Appalachians and mid-Atlantic coast.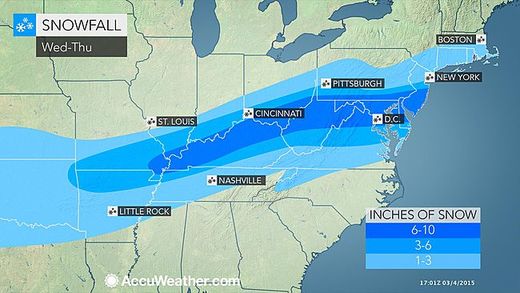 A large part of Kentucky and West Virginia will receive 6 inches of snow with locally higher amounts possible. This same 6-inch swath will also reach eastward across southern Pennsylvania and into New Jersey.
The snow will be wet and clinging in nature initially. This will weigh down trees and could lead to power outages.
Despite the lighter amount of snow forecast from Oklahoma City and Wichita, Kansas, to Little Rock, Arkansas, and Nashville, enough will fall, along with plunging temperatures to create slippery travel.
A key to how nasty road conditions get will depend on several factors.
"Where the snow falls during the late-night and early-morning hours, where it snows hard at any time or where sleet falls during part of the storm, roads are likely to be at their worst," Abrams said.
Light snow typically struggles to accumulate during the midday hours in March, even with temperatures below freezing. This is due to some of the sun's rays penetrating through the clouds.
Some of the snow will fall from late Wednesday night to Thursday morning in the heavily populated Interstate-95 corridor from Washington, D.C., and Baltimore to Philadelphia and New York City. Motorists should be prepared for a slippery Thursday commute.
A heavy rate of snow can overcome the March sun effect. Some areas will receive snowfall at the rate of 1-2 inches per hour, which is more than enough to cover roads during the middle of the day.
Pockets of sleet will occur along the long swath of wintry precipitation.
"Sleet, similar to hail, is very dense and can take much more heat away from road surface temperatures, compared to snow," Abrams said.
On the southern edge of the heavy snow, an icy mix of snow, sleet and freezing rain will coat roads and sidewalks.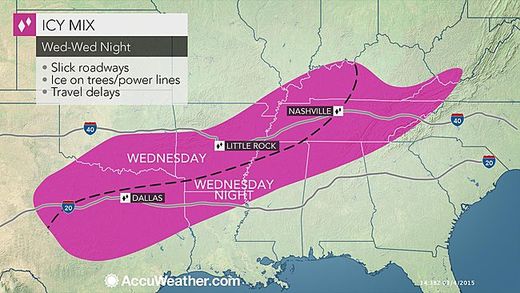 Areas from Dallas to Shreveport, Louisiana; Tupelo, Mississippi; Huntsville, Alabama; and Chattanooga, Tennessee; could receive a slippery, but small amount of wintry mix from the storm.
In addition to travel problems directly associated with precipitation, a
brief but significant push of arctic air near the tail end of the storm
will cause areas of standing water and slush to freeze.
In some cases, the freeze-up will not wait until Thursday night. Because of this government cleanup, crews and property owners may want to remove the snow and treat surfaces as soon as possible on Thursday.