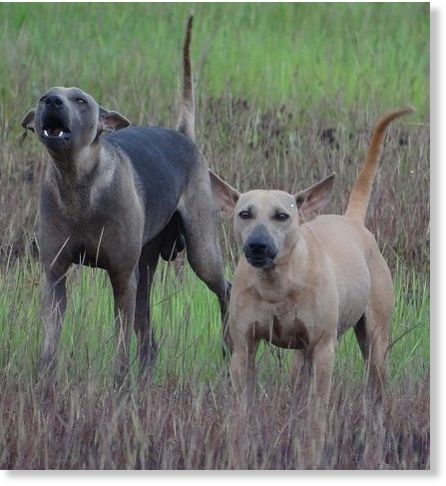 With the district administration still clueless about how to handle the rising menace of stray dogs attacking people,
the canines seem to have grown bolder as they are increasingly attacking adults.
In the latest incident, a pack of four dogs attacked a pregnant woman in Pareva village of Baheri on Sunday while she was working in the fields. Listening to her screams, villagers armed with bamboo sticks rushed to her aid. They beat the dogs with sticks and chased them away.
However, the woman, Lalita (30), lost her leg in the attack. Five children have been killed and at least 10 injured in stray dogs' attacks in the past 45 days.
Meanwhile, the campaign of district authorities of identifying and catching killer dogs could not be started on Monday due to incessant rain. "Our teams along with villagers had to track the dogs from Monday onwards but due to incessant rain since two days, we were unable to move in the area," said Rameshwarnath Tiwari, sub-divisional magistrate (SDM), Baheri.
Dumping their plans of painting harmless dogs blue, the administration had instead asked villagers to tie a collar or rope around such canines from Monday, but this plan was put off due to the rains. Besides, teams comprising 50 people from the affected villages along with officials of the forest department, Nagar Palika and Zila Parishad were expected to search for the menacing dogs in the affected villages. The SDM added, "If there is clear weather on Tuesday, we will launch our campaign, otherwise would be forced to resume it after Holi."
Apart from Baheri, a stray dog attacked and killed an eight-year-old girl in Hassanpur tehsil of Amroha on Sunday.
Explaining the probable reason that led to attack in Amroha which is nearly 200 kilometres away from Baheri, a veterinary expert said, "Most of the homes in Amroha have become Biryani centres and hence, animals are slaughtered at houses. The residue after slaughtering of animals is thrown on roadsides which are eaten by stray dogs. The easy availability of meat has made stray dogs habitual of it and hence, one of them attacked the girl." The veterinary expert added, "Another reason is that it is breeding season of dogs and they become violent during this period. Besides, dogs feel hungrier in winter as compared to other season."