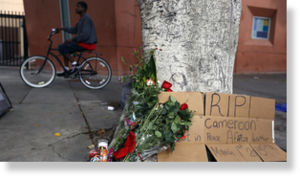 Authorities said Sunday night that Los Angeles police fatally shot a man on skid row during a struggle over an officer's weapons.
Police officials offered a detailed account of what they say prompted the Sunday morning shooting, which was captured on video by a bystander.
Cmdr. Andrew Smith said officers assigned to the LAPD's Central Division and Safer Cities Initiative — a task force focused on skid row — responded to the location about noon Sunday after receiving a 911 call reporting a possible robbery.
Smith said the officers approached the man and made contact with him, at which point he "began fighting and physically resisting the officers." The officers attempted to take him into custody and at one point, attempted to use a Taser that Smith said was "ineffective."
The man continued to resist police, Smith said, and the man and some of the officers fell to the ground.
"At some point in there, a struggle over one of the officer's weapons occurred," Smith said. "At that point
an officer-involved shooting happened
."

Comment: Did ya get that? No one shot anyone. An "officer-involved shooting happened". As a result, a civilian was found on the ground with holes in his body that contained metallic objects that may, or may not, be related to the fact that he was not breathing.


Two officers and a sergeant fired at the man, who was pronounced dead at the scene, Smith said. It was unclear how many times the officers fired, although at least five shots can be heard on the video recording that captured the shooting.
No other gun was recovered at the scene
, Smith said.
It was unclear if the man had any other weapons among his possessions — investigators were still combing the scene late Sunday night.

Comment: No other gun was recovered at the scene, which suggests that the victim did not have a gun, although the LAPD will leave no stone unturned in an effort to find the gun that is suspected to have played a role in the perplexing death of the individual.


The man has been tentatively identified, but Smith said it was unclear if he was homeless.
Two officers were treated and released for injuries sustained in the struggle, Smith said. The extent of those injuries was unclear.