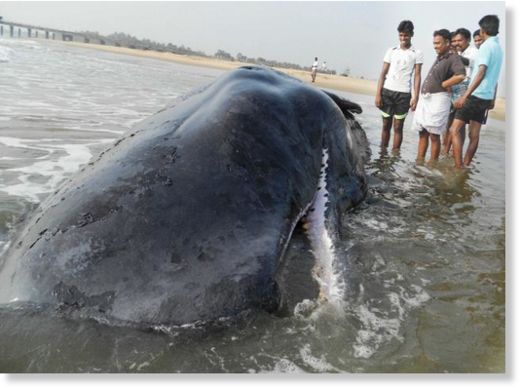 The carcass of a 30-foot-long whale washed ashore at Pettodai near Periyakuppam on Thursday evening.
A group of fishermen spotted the carcass near the shore at around 6 p.m. and alerted the Forest Department.
News about the dead whale spread like wildfire and people gathered in large numbers to get a view of the mammal.
"The whale had a length of 9 metres and weighed nearly five tonnes. A post-mortem examination alone can reveal reasons behind the death and how it was swept to the shore. The whale might have been hit by a barge or a ship passing through the coast," Sundaramurthy, Cuddalore Range Forest officer said.
The carcass was found stuck in the sand and an earthmover was engaged to retrieve it.
It was later buried in a pit on the shore by the Forest Department.
Last month, a male dolphin beached at the Solai Nagar coast in Puducherry. The dolphin died after efforts to rescue it failed.