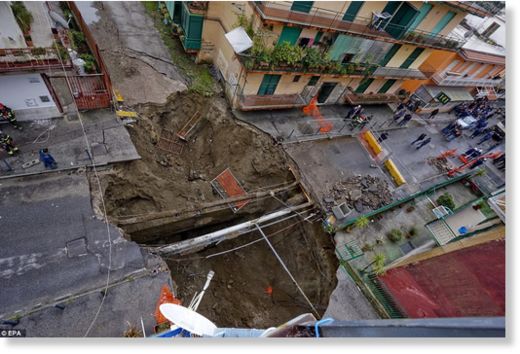 Residents in Naples, Italy woke up this morning to a massive sinkhole that opened up in the middle of a street.
Officials say the sinkhole started off as a depression in the road and is most likely caused by a broken sewer.
'It was 5 this morning when I heard a huge thud. I looked out and saw the road collapse and swallow a car,' a woman who lives in a neighboring apartment told Il Mattino.
None of the surrounding buildings showed sign of damage, but nonetheless the four condominiums surrounding the crater were evacuated on Sunday with city officials scrambling to find accommodations for the 380 displaced locals.
'We are in contact with hotel facilities in the area in order to accommodate everyone and try to reduce as far as possible, the inconvenience to citizens,' an official said.
David Lezzi, the operations manager of the site, said crews will first figure out the extent of the hole before trying to stabilize it with concrete.
Reports did not say when residents might be able to return to their homes. The area has been cordoned off.