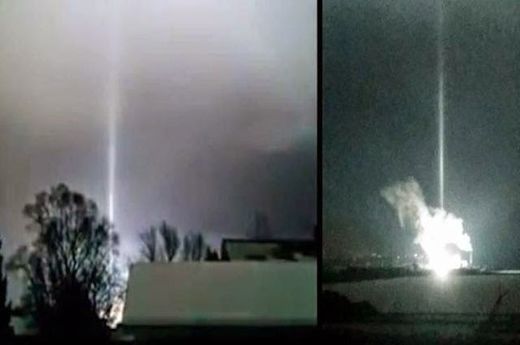 On February 2nd, an
explosion at an substation in Michigan
caused widespread power outages across the city. A lot of attention was given to the subsequent light beam. Although quite spectacular to observe, such
light pillars
or
crepuscular rays
have a rational explanation. Yet could there be something more to the story?
In
Earth Changes and the Human-Cosmic Connection
, Pierre Lescaudron presents the possibility that certain types of buildings or factories can act as attractors for dramatic electrical discharges, possibly 'sparked' - via electrical discharges 'at a distance' - by incoming comet fragments or meteors, or unusual atmospheric conditions producing strong lightning strikes and even 'invisible' discharges. If you're following SOTT.net, you'll know just how common meteor fireballs are these days, and how strong the likelihood is that they are starting to cause serious damage... '
Was the West Texas explosion a meteorite impact?
'
Perhaps such 'sparking' is also responsible for some other recent infrastructure explosions, which seem to be occurring with increased regularity, such as the
200 manhole explosions
in New York, oil refinery explosions in
California
and
Ohio
, a fuel truck explosion in
Mexico
, the
West Virginia
pipeline explosion and
household
gas
explosions. Probably most of these incidents, but not necessarily
all
, have a conventional cause of ignition.
Very little information has been released about what might have caused the Escanaba Power Plant explosion, but
speculation has ranged
from the ludicrous suggestion from local officials that the light was from a train, to propaganda blaming a plot by Spetsnaz, the Russian special forces.
Rather than speculate on the light beam though, I want to focus on the failure of the Escanaba Power Plant substation's main transformer, which appears to be following a global trend of electrical anomalies affecting power grids, one example of which are
transformer/substation explosions
.
Transformer explosions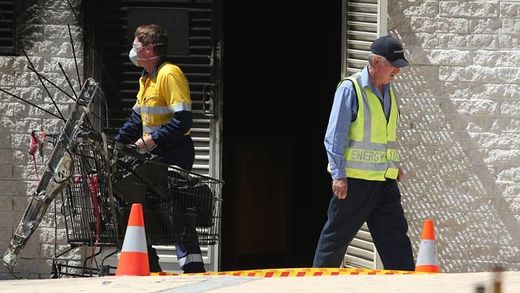 On February 3rd, four workers were carrying out maintenance when an explosion occurred near Woolworth's at the busy
Morley Galleria shopping centre
in the West Australian city of Perth. Two of the electricians died instantly and their colleagues were seriously burnt in the tragedy. Australian Electrical safety regulator EnergySafety said the cause of the explosion was still under investigation, but it was clear there was a
short circuit in the equipment
.
EnergySafety
director Ken Bowron said:
The switches allowed fuses to be changed on electrical equipment while it remained energised, which was highly dangerous.
He added:
The switches were designed to allow maintenance work while they were still running to avoid having to shut them, and possibly the shopping centre, down.
Other recent transformer explosions:
Electrical anomalies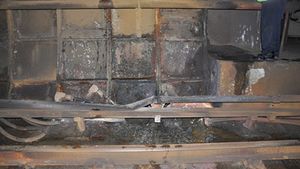 In
another incident
, one woman died and more than 80 other people were overcome by smoke on the Washington Metro subway system. Smoke spewed from electrical arcing that lasted nearly 45 minutes near the busy downtown L'Enfant Plaza station during the January 12th accident. Two trains stopped on the tracks before reaching the station as they filled with smoke.
Federal investigators have previously said the sparking, or electrical arc, that produced the smoke occurred when a circuit breaker tripped on a section of the electrically-charged third rail of the subway's Yellow Line.
According to National Transportation Safety Board Chairman Christopher Hart:
We know there was an arc, but we don't know why there was an arc
He added:
Arcing normally results if power lines are touched by a conductor of electricity, such as water
Apart from the 'normal' causes of transformer explosions and electrical arcing, is there another background factor that can explain the apparent
increase
in such incidents?
The 'grounding' of our Solar System
One of the main tenets presented in the aforementioned book is that the Sun's 'twin' - Nemesis - is approaching with an accompanying cometary swarm. As a result of this cyclical event we are experiencing increased 'grounding' of Solar system wide electrical discharges, amongst other related changes.
In simplistic terms, in a domestic electrical circuit, a sudden surge in mains voltage would mean the MCB (
Miniature circuit breaker
) would trip and have to be reset or in an older system the fuse needing to be replaced. From Wikipedia:
A circuit breaker is an automatically operated electrical switch designed to protect an electrical circuit from damage caused by overload or short circuit. Its basic function is to detect a fault condition and interrupt current flow. Unlike a fuse, which operates once and then must be replaced, a circuit breaker can be reset (either manually or automatically) to resume normal operation.
If civilization's electrical circuitry - its power grids - are subject to increasing cases of 'short-circuiting', then the question arises: what is causing this 'system overload'?