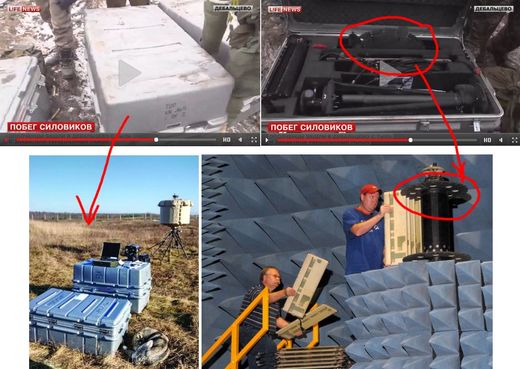 It's looking like the Ukrainians accidentally left behind some of their stuff during their "planned and organized" withdrawal from the Debaltsevo
cauldron
'bridgehead' over the past couple days. See the following report, courtesy of
Fort Russ
:
Judging by the "LifeNews" report on February 19, 2015 about Novorossia fighters collecting trophies after Ukrainian troops withdrew from Debaltsevo, among other finds, NAF received one whole complex of LCMR (Lightweight Counter-Mortar Radar), supplied by the United States as part of military assistance to Ukraine.

The U.S. has decided to send to the armed forces of Ukraine 20 LCMR radars, the first three of which were delivered in November 2014. According to the information, received by our blog from the most serious sources, soon after the transfer one of the stations was damaged during transportation, and then another station was damaged by artillery fire of the enemy at the first attempt of its combat use by the Ukrainians. We can assume that the LCMR radar, abandoned by the Ukrainian troops in Debaltsevo is the third of this ill-fated first batch of the three stations.
NAF troops have
also found
plenty of supplies: bulletproof vests, goggles, thermal boots, drones, thermal imagers ballistic computers, med kits, digital radio stations, ammo, grenades, anti-tank systems, mortars, a
U.S. armored Humvee
, and Canadian, American and NATO helmets.
That's a lot of helmets. Speaking of which, they also found
this one
: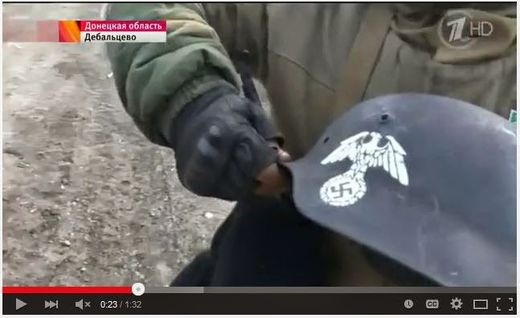 Here's the Humvee:
Those Ukrainians must have been in quite a hurry! How kind of them to leave behind so many gifts!
Here's a list of the '
trophies
' acquired so far (keep in mind this doesn't include all the weaponry that was destroyed, just the usable or repairable stuff):
over 80 tanks, some fully operational and loaded with ammunition
over 100 BMPs and BTRs
over 50 122mm and 152mm weapons
about 15 BM-21 122mm Grad launchers (plus over 500 tons of artillery ammo)
tons of small arms (heavy machine guns, RPGs, RPOs)
storehouses of food and medicine
Watch the following to get an idea of just how much stuff was left behind or destroyed:
In contrast, here's what the Ukrainians managed to
take out
with them (those who managed to get away on foot, or break out during the fighting), based on photos and video of their victorious return:
at least 6 tanks
around 30 BMPs and BTRs
3 howitzers
4 command vehicles
1 Grad launcher
2 combat engineer vehicles
5 BRDM-2s (half a reconnaissance company)
Assuming they managed to get away with more than that, it still only amounts to the equivalent of 1 to 2 battalions' worth of equipment, out of the 10+ or so that were stationed in Debaltsevo.
Meanwhile, here's what has been going on in Ukraine and Russia for the past couple days, courtesy of South Front:
1) Ukrainian Democracy Strike Back
2) Fear and Loathing in Kiev
3) Poroshenko wants peacekeeper presence in Ukraine
4) Churkin Doubts in Kiev's Commitment to the Minsk Agreements
5) Kiev: Violating agreements? No problem!
1) DPR, LPR Pullout Weaponry, Kiev Shell Donetsk
2) Peacekeepers of War
3) Great "European" Ditch instead of Wall
4) Psaking Have Come to White House