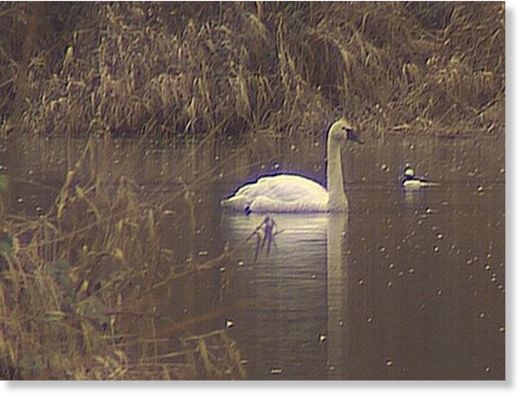 What started as a few reports of dead trumpeter swans in the Snoqualmie Valley has turned into much more.
Dozens of birds are dead and many more are terminally ill in an area near Carnation along the Snoqualmie River.
Experts believe it to be a massive case of lead poisoning.
A lone trumpeter swan appears perfectly fine as it floats in a Snoqualmie River side channel, but it's in serious trouble.
"The only good news is, it's not raining," said Martha Jordan, coordinator with Washington Swan Stewards.
Jordan is going after that swan like she has dozens more just like it since a lead poisoning die off began late last month.
"Probably it's close to 50 down here," she said.
Nothing is easy when it comes to collecting dead and dying swans. Today Jordan is using her specially trained dog to herd a sick swan close enough for her to net it.
The swan has enough strength to fly away, but its days are numbered.
"Even if we caught it today, it will not be surviving. It's just not something you can rehabilitate," said Jordan.
Jordan cannot un-poison the birds, which have apparently eaten small, lead shotgun pellets. She can only keep searching for them in hopes of capturing them and humanely putting them down.
Her next chance to do that is at a nearby golf course where she spotted a sick swan during an aerial survey yesterday.
This one requires extra equipment.
"The hope is they can seal off its escape in one direction, get the boat in the water and actually capture it," said Jordan.
It is not to be. The swan musters enough strength for a low aerial escape.
"That bird is essentially a flying mortality," she said.
Each death, each escape by a dying bird takes an emotional toll on Jordan and her team. But there is no time to reflect on it.
Even though lead shot was outlawed for hunting water fowl years ago, many more Trumpeters swans are finding it and dying from it in the Snoqualmie Valley.
Jordan believes the lead was probably washed down to the river corridor by floodwaters from upland areas where lead shot is still legal.