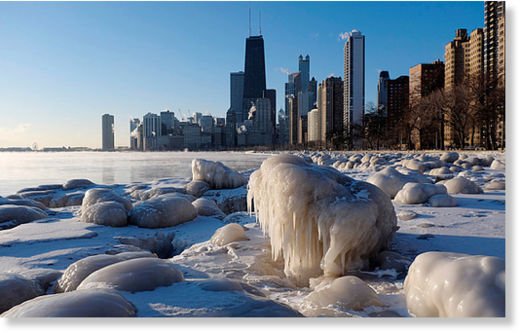 Temperatures plummet up to 40 degrees below their normal February levels across much of eastern America
A bitterly cold chill known as the "Siberian Express" has enveloped much of eastern America,
sending temperatures plummeting up to 40 degrees below their normal February levels to record lows in at least 100 places.
Southern states such as Tennessee and Kentucky suffered some of the most extreme drops on the thermometer as bone-chilling air from Siberia settled on the region after snowstorms passed through.
The relentless cold has blanketed the country's north-east for weeks, alternating heavy snowfall with spells of clear but gnawingly chilly skies.
In New York's Central Park, temperatures were expected to fall to -17C, but that was before a windchill factor with gusts that made it feel another 10 degrees colder.
The city is on course for its coldest February in history.
"The frigid air in the US comes courtesy of the Siberian Express," Mike Bettes, a Weather Channel meteorologist told NBC News. "It's cold Arctic air from northern Russia. It's travelling 5,000 miles over the North Pole, over cold snow pack, and going all the way as far south as the Gulf Coast."
Carl Erickson, senior meteorologist with AccuWeather, said that a high-pressure system has redirected the jet stream, leaving the icy air hanging over the country's eastern third.
The sub-zero weather was predicted to set records on Thursday and Friday from Kentucky, Tennessee and the Carolinas to Washington, New York and Boston.
In Kentucky, the town of Paducah had already experienced temperatures of -22C, the coldest since records began in 1895.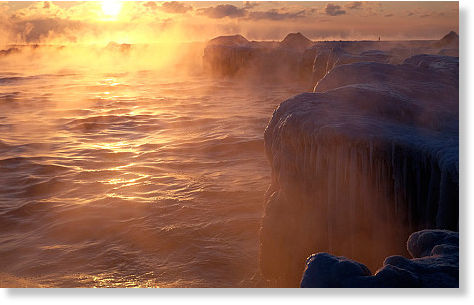 The great chill has created some memorable sights, including the frozen Niagara Falls. But it is also producing life-threatening conditions, has forced school closures and cancellations of flights and trains.
More than 100 million Americans are in the path of the current Siberian blast. Emergency response officials in southern states such as Tennessee scoured the streets urging homeless people not accustomed to such cold to seek refuge in shelters.
No stranger to deep winter chill
, Chicago is experiencing its coldest February since 1875
. In North Carolina, officials warned that black ice turning roads into potential death traps with "ice-skating rink-like conditions".
Maine and northern New Hampshire and Vermont were expected to receive up to another foot of snow in areas that have already been battered by record-setting falls.
The town of Eastport, Maine, was believed to be leading the snow table with 109 inches in the last 23 days.
Fears are growing for the physical safety of buildings under the weight of the snow.
More than 70 roofs have collapsed in Massachusetts
, including a partial-collapse in the town of Sutton of a shopping plaza that had just been evacuated after workers heard cracking noises above them.
With such intense cold, there has been no melting of the snows. Indeed, in Boston, city fathers have urged thrill-seekers to end the craze for "snow jumping", hurling themselves from the upper floor windows of buildings into the towering drifts that are lining streets.