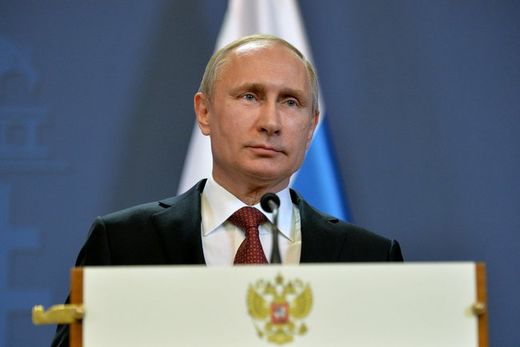 QUESTION
: Mr President, what is your assessment of the situation now that two days have passed since the Minsk agreement on a ceasefire took effect? Things do not seem to be going so smoothly, especially when you look at what is happening in Debaltsevo. There, at any rate, there is no ceasefire in place.
VLADIMIR PUTIN
: First of all, we place great importance on the agreements reached in Minsk. Perhaps not everyone has noticed this yet, but what is particularly important in these agreements is that
the authorities in Kiev are essentially agreeing to carry out far-reaching constitutional reform in order to satisfy demands for independence
- call it what you will, decentralisation, autonomy or federalisation - in different parts of the country.
This is a very important and very significant decision on the part of Ukraine's authorities
.
But there is another side involved too, and if the Donbass region's representatives have agreed to take part in this reform, this means that we are seeing some support for progress along this road of developing Ukraine's statehood.
Of course, the quicker everything is done to end hostilities and withdraw military equipment, the quicker this will put in place the real conditions needed for a political settlement to really go ahead.
As for military operations, I want to say that we have noted overall a substantial drop in activity. But let me note too that last time, when President Poroshenko decided to resume military operations and then stop them, it was not possible to do this immediately.
What we do see now though is a clear and big decrease in the amount of shooting and exchange of hostilities along the entire battle line
.
Yes, clashes are still taking place around Debaltsevo. But there too the scale and intensity of operations is less than it was before.
What is happening there was not unexpected
. According to our information, a group of Ukrainian troops were already surrounded there before the meeting in Minsk last week.
I spoke about this at the meeting in Minsk. I said that the surrounded troops would try to break out of the encirclement and there would be attempts from the outside too to break through, and the militia, who had got the Ukrainian troops surrounded, would resist these attempts and try to keep the encirclement in place, and this would inevitably lead to further clashes
. Another attempt to break through was made this morning, I don't know what the media have been saying, I have not managed to follow all of the news, but I know that at ten o'clock this morning the Ukrainian armed forces made another attempt to break open the encirclement.
It was unsuccessful in the end.
I hope very much that the people responsible in the Ukrainian government will not prevent Ukrainian servicemen from laying down their arms.
If they cannot or will not take this important decision and give this order, they should at least not prosecute those who are ready to lay down their arms in order to save their own and others' lives
. At the same time, I hope that militia representatives and the authorities in the Donetsk People's Republic and Lugansk People's Republic will not detain these people and will not prevent them from freely leaving the conflict zone and encirclement and returning to their families.
QUESTION
(translated from Russian)
: Mr President, from your words I understand that when the Minsk agreement was signed, and when you took part in the talks, you knew that the ceasefire would not take effect from exactly the moment planned. In other words, it was to be expected that some clashes would continue.
Do you think these clashes will end soon? Are you optimistic about the chances for a lasting ceasefire, or are you a pessimist, because if military clashes do intensify there, the United States could start supplying arms to Ukraine. How you would respond to this, what would Russia do?
VLADIMIR PUTIN
: Concerning possible arms supplies to Ukraine, for a start,
according to our information, arms supplies are already taking place
. There is nothing so unusual about this situation.
Second, I firmly believe that
no matter who and which type of weapons are involved, it is never a good thing to supply arms to a conflict zone
, but in this particular case, no matter who sends them and what kind of arms are involved, the number of victims might rise of course, but the result would be the same as what we see today.
This would be inevitable because I believe that the vast majority of Ukrainian servicemen do not want to take part in a fratricidal war, even more so far from their own homes, and the Donbass militia has strong motivation to fight for and protect their families
.
After all, let me remind you once again that
what is happening now is linked to one thing only, namely, to the fact that the government in Kiev decided for a third time to resume military action and use the armed forces
. This decision was first taken by
Mr Turchinov
, who issued the order to carry out what he called an antiterrorist operation.
President Poroshenko
then decided to resume the military operations, and now this is happening for the third time.
There will be no end to this if the people making the decisions do not realise that there is no hope of resolving the problem through military means
. It can be settled
only through peaceful means
, only through reaching an agreement with this part of their country
and guaranteeing these people's lawful rights and interests
.
Let me say that the agreement reached in Minsk offers an opportunity for this to happen. In this respect, I want to note the big role that the French President and the German Federal Chancellor played in reaching a compromise. I think that a compromise solution has been found and could be cemented by a resolution from the UN Security Council.
Russia, as you know, has already put forward this initiative
. If this happens, the Minsk Agreement would gain the status of international law. If not, it is already a good enough document that should be implemented in full. I am more of an optimist than a pessimist.
Let me say again that the situation is relatively quiet along the whole battle line now. We need to settle the problem of the group that has been surrounded. Our common task is to save the lives of the people trapped in this encirclement and ensure that this issue does not worsen relations between the authorities in Kiev and the Donbass militia.
It is never easy to lose of course and is always a misfortune for the losing side, especially when you lose to people who were yesterday working down in the mines or driving tractors. But life is life and it has to continue. I don't think we should get too obsessed about these things.
As I said, we need to concentrate on resolving the main task, which is to save the lives of the people there now and enable them to return to their families, and we need to implement in full the plan agreed to in Minsk. I am sure that this is possible. There is no other road to take.