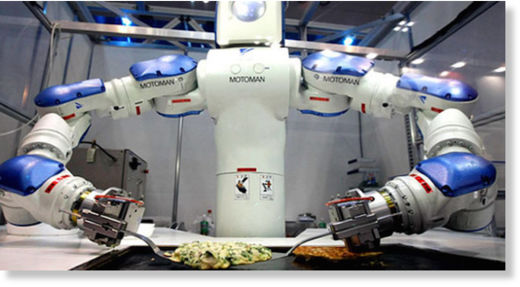 U.S. chain restaurants make it their business to create a homey, familiar environment. Places like Applebee's, Cracker Barrel, and T.G.I. Friday's are dedicated to making customers feel like they're eating at a neighborhood institution rather than a replica of a place that can be found in the next town over...and the town after that, and so on.
But in China, there's a restaurant movement that wants diners to feel like they're having an interplanetary interaction as soon as they walk in. "
Earth person, hello
!" a robot greeter says at Haohai Robot Restaurant in Harbin, China. Diners are then seated at their table, place an order with a robot waiter, have their food prepared by a robot chef, and then pay as their (robot-cleared) dishes are being scrubbed by a robot dishwasher.
Robots are also
behind the scenes at Wishdoing
in Shanghai, preparing dishes like mapo tofu, Kung Pao chicken, and six other Chinese specialties in under three minutes each. At noodle houses across China, the laborious task of hand cutting noodles is carried out by Chef Cuis, the
robot creations of restaurateur Cui Runguan
. And at the
Dalu Robot Restaurant
, the entire wait staff is robotic.
These curious chefs de cuisine are now starting to get jobs overseas. Google employs a
3D printer to custom create pasta
for its employees. PayPal co-founder Peter Thiel was behind the funding of a 3D printer that
in a few years will crank out replica steaks
, hamburgers, and other vegetarian-friendly beef made from protein. 3D printers may lack the presence and personality of their chef counterparts, but their get-down-to-business attitude might be what's needed to make the transition from hometown hangouts to robot restaurants.
Take a food tour through the gallery to watch robots roll rotis, serve up sushi, steam lattes, twirl ramen, and even make pizza from scratch.
Click here to view slideshow