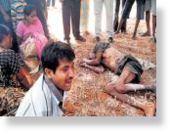 A 45-year-old farmer was killed by a wild elephant in the family's agricultural field at Attingere in the taluk on Sunday night.
The victim was identified as Panchalingaiah, son of Sanjeevaiah.
On Monday night, Roopa, Panchalingaiah's daughter, went to the field to give him tea. She was shocked to find her father's body lying 200 feet away. She then returned to the village to inform her family about the incident.
It is said Panchalingaiah was sleeping in the ragi field, when the elephant came there in search of food and started eating the ragi crop.
The shocked farmer cried out for help. This scared the elephant
and it pulled him for some distance and threw him down
. The farmer died on the spot. Panchalingaiah is survived by his wife and three daughters.
The village residents, along with members of the Raitha Sangha, staged a roadblock on the Ramanagar-Magadi Road and demanded that the authorities concerned take steps to curb the elephant menace. They also set fire to tyres. This disrupted traffic for sometime.
They said elephants had killed five farmers in recent times and had destroyed crops grown on several acres of land.