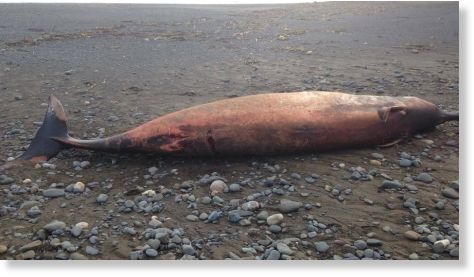 Biologists with the Department of Fisheries and Oceans in St. John's are hoping to perform a necropsy on a rarely-seen whale found beached on the shore in Point Lance on Saturday.
A dead Sowerby's beaked whale was discovered on the beach in Point Lance on the Cape Shore.
Crews with DFO went to the site with a trailer to haul the carcass to its offices.
Jack Lawson, a scientist with DFO,
said the species is "relatively rare" in the Newfoundland and Labrador region.

"In Canada, it's listed under the species at risk act as special concern, partly because we just don't know much about them. These animals have been rarely seen at sea, partly because they don't approach boats and they're kind of inconspicuous,"
said Lawson.
"They don't have a big blow and they're not fond of large groups, and they're rarely seen ashore, so we really don't know. There could be many of them offshore,
but they're reclusive deep water animals."
The species generally lives in the north Atlantic ocean, and averages a full-grown length of just under five metres.
According to Lawson, this will be the first chance he'll have to perform a necropsy on one of these whales. He added that scientists will need to determine if the adult female was pregnant when it died, or gave birth.
"From a biologists point of view, it's dead which is a bad thing, but on the other side of things it gives us a really good chance to look at this animal, which appeared to be a pregnant — or is a pregnant female," he said.
Lawson said the whale is currently stored outside the DFO building in St. John's, and they're hoping to perform the necropsy when weather permits — likely in March.