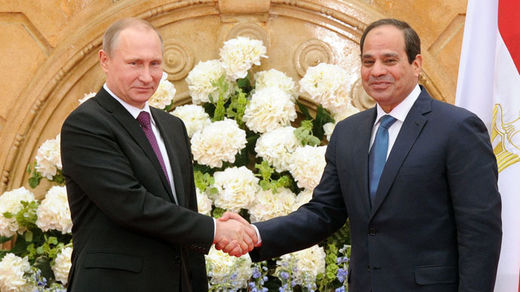 Russia will contribute to building "a whole new nuclear power industry" in Egypt, President Vladimir Putin has announced as the two countries have signed a number of agreements after a meeting in Cairo.
The leaders of Russia and Egypt have signed "a memorandum of understanding to build the first nuclear plant in [the northern city of] El-Dabaa," Egyptian President Abdel Fatah al Sisi has told reporters at a news conference at Cairo's Al Qubba presidential palace.
Russia would contribute not only to the construction of a nuclear power plant, but also staff and scientific research, President Putin said.
"We discussed today the possibility of cooperation in nuclear power engineering," Putin said. "If final decisions are made, they will relate not only to the construction of a nuclear power plant but also to the creation of a whole new nuclear power industry in Egypt."
If successful, the project could cover the Egypt's necessity for electric energy, Sisi said.
"Russia has a significant experience that it could share with Cairo, and for that Egypt would be very thankful," he said. "Also, [a nuclear plant] will cover the Egypt's necessity for electricity."
Under the new agreement, Russia's nuclear agency Rosatom will build two reactors based on "Russian technology," Rosatom chief Sergey Kirienko said.
Moscow and Cairo have agreed a contract for a total of four units of 1200 MW each.
The new generation plant, Kirienko said, will comply with "post-Fukushima" safety standards.
"We understand the task given by the Egyptian president: to act as quickly as possible. We are ready," he said.
The first negotiations on the project's implementation are scheduled as early as next Monday, when "a large group of technical experts" will arrive in Moscow.
"We will negotiate technical and commercial issues," Kirienko said.
Besides nuclear cooperation, the Egyptian leader and Russia have discussed a broad range of international issues, including joint economic and military-technical collaboration.
The two countries have agreed on establishing a free trade zone with the Russian-led Eurasian Economic Union (EEU) and a Russia industrial zone in the Suez Canal area.
Also, Russia and Egypt will make efforts to promote a number of investment projects in various sectors, including the transportation, manufacturing and chemical industries. According to Putin, there are already 400 Russian companies operating in Egypt and the two sides have agreed to expand opportunities for small- and medium-sized businesses in Egypt.
Both presidents noted the importance of the tourist industry and expressed their willingness to develop cooperation in this sphere, as a record number of Russian tourists visited Egypt last year.
The two heads of state also discussed possibilities for the Middle East peace process.
"We have agreed to step up our efforts in combating terrorism," Putin said.
"We have agreed on the need to maximize efforts to restore the negotiation process between Israelis and Palestinians on a two-state basis, with East Jerusalem as the capital of the State of Palestine," Egyptian President Sisi said, adding that the two sides expressed the need to preserve the territorial integrity of Libya and Iraq, as well as the urgency for various political forces to reach a consensus. He also noted that the fight against terrorism had to be conducted in all directions, including in the ideological and socio-economic sphere.
"I hope this visit will further boost development in the ties between our two countries," the Russian president concluded.