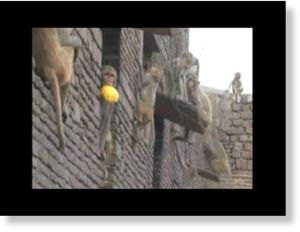 The rising monkey population in Braj region has become a cause of concern for residents.
In yet another tragic incident involving the rowdy primates, an elderly sant (holy man), identified as mahant Lal Baba, 75, of Madhav Kunj, fell from the terrace and died at spot on Wednesday evening.
Baba had gone up to the terrace to fetch items needed for a puja when a tribe of monkeys pounced upon him. The frightened man who tried to flee, lost his balance and fell off the terrace. He suffered severe head injuries. Police have sent the body for a postmortem examination.
Ashram inmates told police that Lal Baba had gone to the terrace to collect "bel-patra" for puja. "Just then a troop of rowdy monkeys attacked him. He fell down from the roof and died instantly."
Two days ago, a woman was attacked in the heart of the city and suffered serious injuries. Laxmi of Keshi ghat area fell from the terrace on Sunday afternoon and was admitted to the district hospital in a serious condition. She fell from the second floor and broke her legs.
According to locals, they are fed up with the simian nuisance
, that is increasing with each passing day.
In spite of the alarming instances of monkey attacks, the authorities do not appear to have any plan of action to contain the growing number of monkeys in Vrindavan. "The pilgrims are being attacked," said a local 'panda', Jagdish Prasad.
The number of monkeys in Mathura district that includes Goverdhan, Radha Kund, Gokul and Barsana, is estimated to be more than 10,000.
Most have turned violent and aggressive, say locals.
The issue of monkey menace has been taken up by local MP, Hema Malini. She has written to various government departments and even asked for sterilization but so far, nothing concrete has been done.
"The problem is that monkeys are growing at a faster pace than what the green cover in the area can sustain. Their natural habitat has shrunk and no authority in any other place is willing to accept them," says social activist Pavan Gautam.
Their aggressive behavior is also being attributed to the fact that most of the monkeys do not get enough to eat and so rummage through garbage dumps. "As a result, they also fall prey to diseases," added Satpal Yadav, a resident of Chaumuhan.
When contacted, district magistrate Rajesh Kumar said the administration was exploring ways to tackle it and looking for ways this could be done.