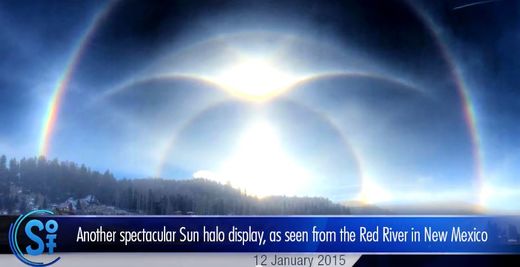 "Within a few years winter snowfall will become a very rare and exciting event. Children just aren't going to know what snow is."

~ Dr David Viner, senior research scientist at the climatic research unit (CRU) of the University of East Anglia, UK, in March 2000.

"Ultimately, British children could have only virtual experience of snow. Via the internet, they might wonder at polar scenes - or eventually 'feel' virtual cold."

~ David Parker, head of the Hadley Centre for Climate Prediction and Research in Berkshire, UK, also in March 2000.
Last month, phenomenal amounts of snow were dumped in the Northeastern and Southern US, Western and Southeastern Europe, the Middle East, Western China, and Far Eastern Russia. Saudi Arabia and the Southwestern US desert were hit with snow for the third year running. The US media has apparently dropped the term 'Polar Vortex' because Arctic conditions extending all the way to the Gulf of Mexico is now 'normal'. The one place where you might expect a lot of snow this time of year - Moscow - instead enjoyed its warmest January in 100 years.
The Great Lakes in North America aren't as frozen over as they were this time last year, but those 'ice boulders' returned to Michigan in January, and the Niagara Falls have again partially frozen. Up to half a million people were affected by the worst flooding Southeastern Africa has seen for decades. The Balkans were flooded for the 5th time in 20 months, and barely two months on from receiving 70cm of rain in one day, Sicily was hit with a similar quantity of hail. Among the spectacular meteor fireball sightings in January were a comet fragment breaking apart over the Russian Far East, and a fireball that turned night into day in Bucharest, Romania.
'Mystery booms' continue to freak people (and animals) out across the US. We suspect that some of them are shockwaves from overhead meteor explosions, but others occur in clusters and are picked up by seismometers (despite there being no known fault-lines), so we are probably looking at general and unusual seismic activity resulting from the
slow-down in the planet's rotation
. This would also be responsible for all these volcanic eruptions, of which there were more spectacular ones in January. 'Earth opening up' also saw sinkholes swallow moving cars in Florida and Maryland.
As you watch this video summary of events in January, keep in mind that we had to leave out so many other unusual events because they're now part of 'the new normal'!
Or watch on Sott.net's Vimeo Channel:
Music used: 'Escape from the Temple' by Per Kiilstofte. Licensed under Creative Commons Attribution 4.0 International
To understand what's going on, check out our recently published book,
Earth Changes and the Human-Cosmic Connection
, available
here
.
Check out previous installments in this series - now translated into multiple languages - and more videos from SOTT Media
here
or
here
.
You can help us chronicle the signs of the times by sending video suggestions to sott@sott.net