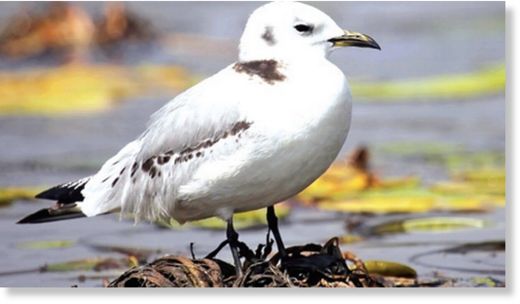 A black-legged kittiwake, a gull which is
found in the North Pacific and North Atlantic Oceans
, has been sighted in Odisha for the first time. A team of Wild Orissa recorded the bird on Balasore coast last week.
Rissa Tridractyla
, as the species is known, was spotted by bird expert Nanda Kishore Bhujabal and photographer Chinmaya Bhujabal in a water tank in the coastal district during a survey.
The team members observed the lone bird closely and took its photographs for analysis. The winged visitor had a white head and body; its back was grey and wings tipped with solid black. It had black legs and a bill which had dull greenish yellow colourations. Its distinct black legs and dull greenish yellow bill was what made it different from other gull species found in Odisha.
"Since this species is not mentioned in any bird manuals on India, it was a bit difficult to confirm its identification," said Nanda Kishore. While its physical features did not match with any gull species found in Odisha, literature available were examined and institutions were consulted which led to the conclusion that it was a Black-legged Kittiwake.
A cliff-nesting gull, named for its loud nasal 'kitti-wake' call,
the bird is also seen on islands off the northern Russia and Norway, Canada, Greenland, western and northern Europe. Unlike most other gulls, the Black-legged Kittiwake spends most of the year far out at sea, usually out of sight of land.
According to Chinmaya, the bird was quite still rare in comparison to other species of the gull family. It was first recorded in India in Morjim, Goa in 2005 January. Subsequently, it has been sighted at Kadalundi, Alibaug, Maharashtra, Majuli Island, Assam and Chavakkad, Kerala. The state of Odisha now joins a very selected states in the country which have reported this species.
The new finding, Wild Orissa said, is significant for bird migration and ecology.