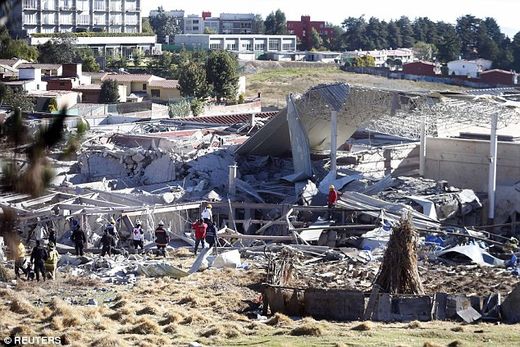 At least
seven people have been killed and dozens more are injured after a powerful fuel tank explosion
outside a
maternity and children's hospital in Mexico
.
Four babies and three adults were killed in the blast in Mexico City today, according to the latest tally. Some are still feared trapped under the rubble of the collapsed building.
Rescue workers have been scouring through ruined sections of concrete and twisted metal for survivors. '
For the moment there are seven people dead, four of them babies, two women and a man
,' an official in the Mexico City mayor's office told AFP.
Passers-by rushed into the building after the blast and made their way to the nursery section, rescuing eight babies, it has been reported.
Dozens were evacuated after the truck exploded outside the hospital with many of the injuries caused by broken glass.
The city's mayor Angel Mancera had told Milenio television earlier that a woman and two men were among the dead.
He told the Televisa network that at least 54 people were injured, 22 of them children.
Most of the injuries were relatively minor, he said, many caused by flying glass.
Fausto Lugo, the city's civil defense director, said 37 people were transported to other hospitals while others were still buried in the rubble.
The explosion sent a column of smoke billowing over the area on the western edge of Mexico's capital and television images showed firefighters trying to extinguish fires throughout the collapsed hospital building.
Mr Mancera said the heaviest damage was near the hospital's loading dock, adding: '
The truck must have had some failure, the hose and that's what caused the explosion
.'
He said that fire continued burning because firefighters recommended that they allow the truck's remaining gas to burn off. He said there was no risk of another explosion.
The mayor said the
blast was thought to have been caused by a leak in the hose carrying gas from the truck to the hospital
, which is operated by the city.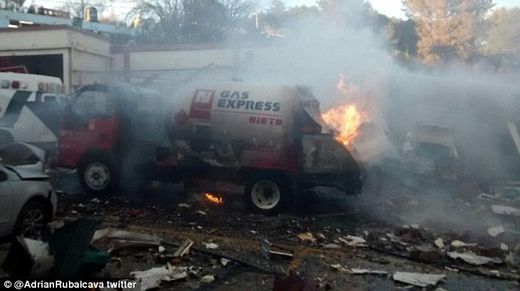 'There was a super explosion and everything caught on fire,' said Ismael Garcia, 27, who lives a block from the hospital.
Mr Garcia ran toward the hospital where the truck had exploded and was told it had been connecting to the kitchen when the explosion occurred.
Mr Garcia and others entered the hospital and made their way to the nursery.
More photos
here