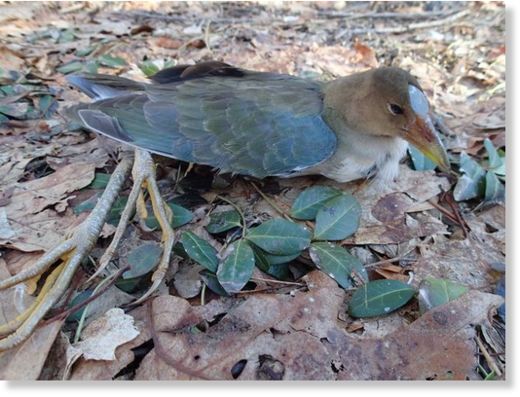 A purple gallinule,
a common marsh bird of Florida, made a wrong landing in Weston last week. Unable to withstand the cold temperatures and find food,
its final resting place turned out to be 80-Acre Conservation Area near Hobbs Pond.
On Jan. 19, dog walker Susie Duff discovered the bird when her two dogs stopped to examine something about 20 feet off a trail. When she approached, she observed an "odd bird" sitting motionless, but alive on the ground.
Conservation Agent Michele Grzenda received the email on Monday night.
"Being an avid bird watcher, I'm always intrigued when I receive a mystery bird inquiry," Grzenda said. "Fortunately Susie was able to take a couple of pictures and attach them to the email she sent me. I took one look at the photo and quickly emailed back, 'Wow! Susie, you have to take me to that bird first thing tomorrow.' I suspected the bird would not last the night, since it was so approachable
and far away from its normal habitat."
Grzenda called upon the assistance of bird watching friend Michael Poppone of Weston to help with the recovery efforts the next morning. Fortunately, Grzenda remembered precisely where she saw the bird the day before.
As expected, the purple gallinule had succumbed to the elements overnight and perished. Knowing what a rare find in Massachusetts it was, Grzenda retrieved the bird and contacted the Massachusetts Audubon Society, who then put her in touch with Harvard Museum of Comparative Zoology (HMCZ).
"The HMCZ ornithologist was very interested in the specimen," she said.
According to Cornell Lab of Ornithology's website, purple gallinules are known to travel long distances, with records from as far north as Iceland, and as far south as South Georgia Island. This species is adapted to respond to ephemeral marsh habitats, and with the machinery to travel long distances, individuals sometimes land in Massachusetts.
But this was the first sighting of this species in Weston. "It was a fantastic find - one I will never forget!" said Grzenda.