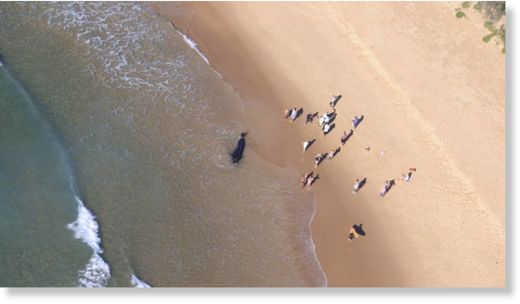 A five metre long whale carcass has been found washed ashore between Fairy Meadow and Towradgi beaches this morning.
The female adult pilot whale died at sea from natural causes according to the Organisation for the Rescue and Research of Cetaceans in Australia (ORRCA).
''The whale was showing clear signs of illness, it was underweight and excessive lice was found in its mouth,'' said ORRCA spokeswoman Shona Lorigan.
ORRCA members reported the whale's condition to the National Parks and Wildlife Service before working with Wollongong City Council to remove the body.
While there have been numerous recent reports of deceased marine life found ashore on the South Coast, there was nothing unusual about the beached carcass, according to ORRCA.
''It's actually quite common for whales to die of natural causes such as disease at sea and to be washed ashore,'' Ms Lorigan said.
''It's important for people to let us know in these cases so we can get members down there and get information quickly through to the National Parks service.''
The carcass is in the process of being buried.
Wollongong City Council has asked people to avoid the area.