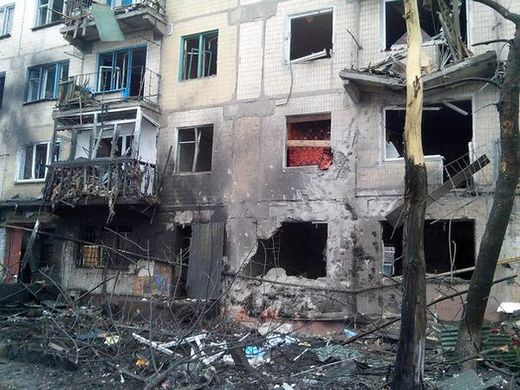 "Gorlovka was under shelling from 7:00 until 20:00. Ukrainian army didn't hesitate to use number of various accoutrements. They had no target: shells landed on playgrounds, at hospitals and schools." - Alexander Kots, reporter for KP.
Gorlovka heaviest shelling: Aftermath. 19/01/2015
English subtitles by
Olga Luzanova
War reporters for
Komsomolskaya Pravda
Alexander Kots
and
Dmitry Steshin
visited Gorlovka the next day after massed air raid, in the result of which about 30 people were killed and many got serious injuries. Below you can find the transcript abstracts of the accounts by the locals.
Interview with a local Vasiliy Gilev in a residential area of Gorlovka after shelling
Vasiliy Gilev:
It happened on Friday, at 19:55 (MSK) an explosion. A shell detonated there, in the front garden. It has been already covered. The windows blown out, the boiler destroyed, rooms are destroyed too. It's a miracle, that my wife and I survived due to being in a bedroom by chance. As a former soldier, I assume it was a mine.
Reporter:
So it was bombardment, right?
Vasiliy Gilev:
Yes, bombardment. There was plenty of splinters.
Yesterday we were under shelling during the whole day, until late evening. I didn't go out, but I could hear that it was heavy shelling
.
Reporter:
Is it lull today?
Vasiliy Gilev:
Yes, today it's quiet. Still quiet.
Interview with a resident of Gorlovka Eduard in a hospital
Eduard:
I was doing sports
-
running along in my micro-district and at about 20:30 got under the shelling, for the first time. A shell detonated in about 4 meters, I was cast away by the blast wave. I examined myself: seemed not injured. I ran to seek shelter in the arch of nine-storey dwelling and about in 2 minutes another shell detonated in the yard of that dwelling. A shell splinter broke my leg in two sites. I called up medical emergency service: the guys came
-
the Militia
-
with ambulance and took me here.
Interview with a local medic Elena Sergeeva
Reporter:
What happened and when?
Elena:
It happened yesterday at 18:00 (MSK), near Universam. I was walking with a young man when they started shelling. The shells were landing quite near. We decided to take shelter in a dwelling foyer. We entered it, I was talking with my mother on mobile phone, and a shell splinter hit my phone and I got a finger bone torn off.
The young man got both legs holed through. But for my mobile phone, the splinter would have reached my head.
It was like that in summer, then it was a lull in autumn... and now...
It was likely even worse yesterday than in summer
. So many victims. The shelling started at 8 o'clock (MSK) and ended only by night.
They didn't shell at least the centre before
-
only suburbs. I live in Bessarabka district, uptown. There are fightings every day.
Reporter:
Now they fire at the centre, do they?
Elena:
Yes,
they have started heavy firing at the centre. It wasn't so heavy before.
Interview with a Russian woman, who came to Gorlovka to visit her grandson studying there
Woman:
We have come now to see that. We are shocked! What are they doing, scums! What do they do? Where do they shell? For all that, Ukrainian mass media report: "Militiamen fire at themselves". How could one do that? How? My grandson studies here, and... Well, fire
-
kill him! I am Russian, I am stricken! I've come here, and I am stricken! May he peg out! Curse him! Putin sent him an official letter on Thursday: "Stop fire! Stop it!"
And this is how he stopped it. Five aerial bombs landed! Is it normal? I can't tell you! Curse them all: Yatseniuk, Tyagnybok, Klichko and Poroshenko!
All their families: children, relatives, nearest and dearest. May they hole up in the basements! How he
-
the President
-
claimed so: "Your children will hole up in the basements."
No, louse, yours will hole up!
Interview with a local resident Elena
Reporter:
So you were just walking along the street...
Elena:
(interrupting)
No, I just went out from my house when they started to bark
-
or how they say, to shell. We ran to the basement
-
my son and mother got there, and I didn't.
Reporter:
Is your foot injured?
Elena:
Yes, it's splintered. Shall I remove a bandage to show you? I wouldn't better do that. All my fingers are fixed with K-wires. The doctor tries to cure the foot, but you know the whole heel is splintered in small pieces. I cannot feel it. Where do I go from here? I still have to bring up my son. It is good at least that treatment in hospitals is now for free.
Interview with a local retiree Natalya
Natalya:
I was lying on my bed. It barked once, and I started to put my clothes on: I pulled on my sports trousers over the tights... My bag with all the documents was there
-
it was always ready
-
but I wasn't going to take it with me anyway. I just moved to take my mobile phone from a cupboard
-
with this link hand, then I moved to the other side to take something else,
and I realised that I cannot operate with my arm
-
it was dangling broken and bleeding
. I ran out to take a towel. Good there was my neighbour - he was running out too. I asked him to take off his belt and to pull it tightly on my arm... I showed him, where to pull, and he did it well. He helped me out and brought my bag too. I ran out in my slippers, with nothing. I have no clothes: they gave me a T-shirt, my all clothes was in blood
-
I don't even have clothes to put on.