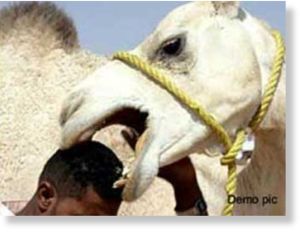 A 45-year-old man on Monday died in Bapunagar after a camel bit him on his head.
The animal owner has been detained for further legal procedure, police said.
"
Govind Trivedi (45) was walking near Jamunanagar slum in Bapunagar area of the city late Sunday night when a camel tied there bit him on his head.
After brief treatment, the man died today," Bapunagar police station's inspector P D Parmar said. The animal's owner Lalsingh was questioned about whether the camel was suffering from any disease or if it had bitten any other person in the past, Parmar said.
If any negligence on behalf of the animal's owner is found, then a case under IPC section 304, for causing death due to negligence, will be registered, he said. The incident occurred on Sunday
when Trivedi walked past the camel and it suddenly bit him
. The passers-by later took him to Civil hospital, said Parmar.
A post mortem of the body was conducted to ascertain the exact cause of the death, Parmar said adding that a case of accidental death has been registered.
Source: Press Trust of India