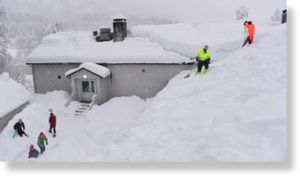 Some buildings in Voss have collapsed under the weight and several municipal buildings are in danger of collapsing.
On Tuesday, civil defense authorities asked for assistance in shoveling massive amounts of snow from roofs on municipal buildings.
As if 1,000 cars on the roof
According officials, the Vossestrand omsorgstun, which has a roof surface of 2,500 square meters,
was covered by a half to two meters deep snow.
"Our calculations show that it is 400 kilograms per square meter of snow. It is as if we were placed 1,000 cars onto this roof," said operations Eivind Hovden in civil defense.
There is so much weight that you have trouble opening doors and windows. There is immense power, he adds.
Believes it is a snørekord (snow record)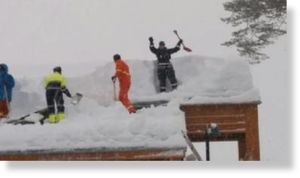 Snow plow driver Magnar says Jordalen Voss Municipality has never experienced so much snow before. On Wednesday morning the snow measured 2.45 meters, and still continues to snow.

"I've talked to people who are older than me, and they have never seen so much snow before Christmas as they saw this year,"
says Naas.
More snow on the way
Vossings can expect more snow throughout the day Wednesday, said meteorologist Trond Thorsteinssontern.
Link