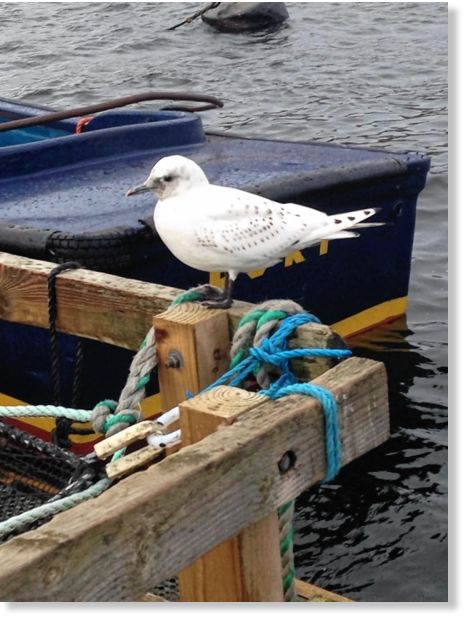 A rare Arctic visitor is getting folk all a flutter in Wester Ross.
A young ivory gull, generally found in the high Arctic, has been spotted at a fish farm near Ullapool.
They have only been reported in the UK as few as 100 times.
The bird was spotted by Wester Ross Salmon employee Matthew Ross when it landed at the fish farm at Ardmair Bay north of Ullapool. Matthew was unsure of the species of bird and sent pictures to a local wildlife tour operator to identify it.
The sighting has caused interest with bird watchers due to its rarity and there is speculation that it may be the same individual that was spotted at Uig Harbour in Skye at New Year and has possibly been blown to the mainland in the recent winds.
Inverness-based Alan Tissiman of RSPB Scotland said:
"Ivory gulls are very rare visitors to the British Isles, invariably seen in the winter months after strong north westerly gales. They are usually found far to the north on the Arctic pack ice where they live all year round.
"They are scavengers, never happier than when they find a dead whale or seal to feed on! They are known to follow polar bears and other predators to feed on the remains of their kills.
"They are lovely-looking birds and I would imagine that this individual will have attracted a fair amount of interest from birdwatchers - though they may not wish to enquire too closely into its feeding habits!"