Animation of ice cover on the Great Lakes from Jan. 7 to Jan. 14 (NOAA)
Ice cover on the Great Lakes has made quite a leap after the first, week-long cold snap of the season.
As of Thursday, ice covered 34.1 percent of the Great Lakes, up from just 5.6 percent on Jan. 1, and 10.8 percent on Jan. 5 - the first day of a polar plunge that gripped most of the eastern U.S. for days to come.
"Last year, the Great Lakes were 21.2 percent ice-covered on Jan. 14, making this year's ice cover 13 percent higher to date,"
writes weather.com
. "If you recall, below-average temperatures were persistent from mid-January onward in the winter of 2014, leading to the second highest ice coverage on record at 92.2 percent on March 6, 2014."
Amazing shot from our Life on #LakeErie Photo Contest: Fortress of Solitude by @LakeErieSurfer pic.twitter.com/YrxyzROkUw

- Lake Erie Commission (@OhioLakeErie) January 15, 2015
This year's January cold snap set off an upward spiral in ice cover over the lakes, particularly for Erie, the shallowest lake in the network.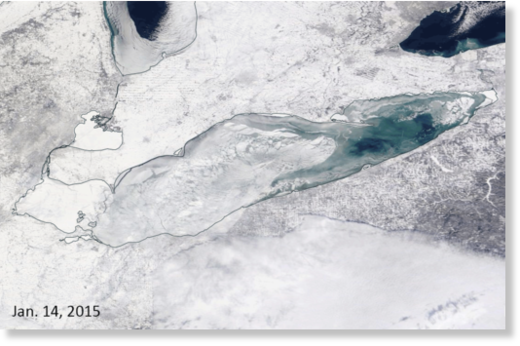 Lake Erie's ice cover has sky-rocketed this month, and is now about 88 percent covered in ice. Just a couple weeks ago, it was ice-free. Last year, Erie's climb was slightly more gradual, starting in December and then shooting up twice after Polar Vortex I and II in January. It seems this year Erie is getting it done in one shot.
Long-term outlooks suggest more chilly blasts are on the way, which means ice cover records could be in play this year.
According to our winter weather expert Wes Junker,
more cold might be in store
behind a potent winter storm late next week. "After the storm pushes through, colder weather is expected to filter in," Junker writes. "By the end of the two week period, temperatures could take a plunge as a strong upper level ridge develops over Alaska and northwestern Canada."
The ice breaking tug Breaker cuts through Lake Erie this morning. pic.twitter.com/SGRhZnY9s5

- Derek Gee (@DerekGeePhoto) January 14, 2015
Cool shot of Lake Erie in winter on approach to Buffalo post attending #JPM15 pic.twitter.com/I8lWWua9B0

- Rob Wright (@RfwrightLSL) January 15, 2015
Lake Erie : Ice : Sunset @Interior @OhioNatureBlog @nature_org @lakecountyoh pic.twitter.com/XJkrs87lbl

- john kovach (@kovachio) January 14, 2015