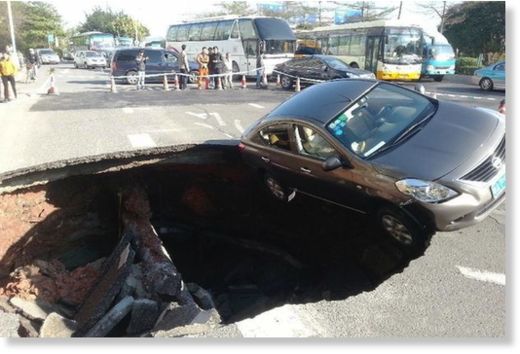 Lucky motorist Sheng Hsu was driving in the southern Chinese city of Guangzhou when his car was pulled into the hole
These incredible pictures show the moment a massive sinkhole swallowed a car just moments after the driver was able to escape in the nick of time.
Sheng Hsu, 43, was on his way to work when the huge chasm appeared in the road.
Luckily, he was able to make a dramatic, last-gasp exit from the vehicle.
He said: "I had just slowed down because there was a bit of a queue and leaned in to switch the radio on.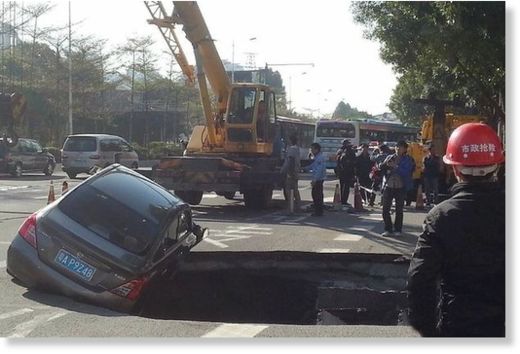 "When I leaned back I felt a vibration that I thought was something to do with the speakers at first.
"When the car started to move I stupidly pulled on the handbrake thinking I was rolling backwards, but then I realised I was the tipping over to the side."
Looking out the window, Sheng saw a huge hole appearing in the road as the tarmac vanished into the ground.
Acting instinctively, he crashed open the door and managed to scramble out before the car tipped inside.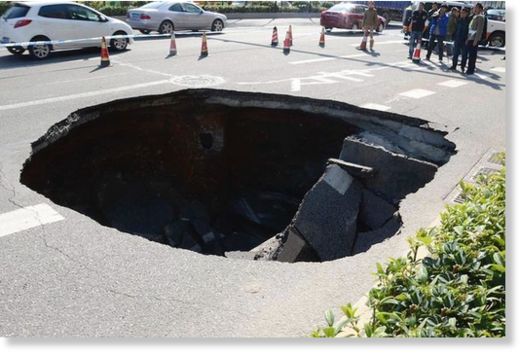 He said: "I dread to think what would have happened if the traffic had been speeding along at the usual rate. It's pretty busy at all times of day here."
Engineers said the hole in Guangzhou had been caused because a sewage pipe had broken, leaking water into the soil under the road and washing it away.
But it is not the first time a huge sinkhole has appeared under a road or indeed a building in the region.
Council officials have ordered an enquiry to see what can be done to prevent similar problems in the future.