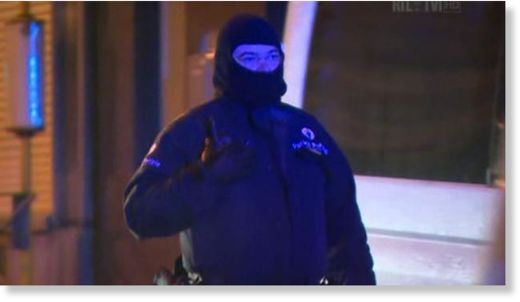 Comment: Expect more of these operations in Europe in the next few weeks and months. In most cases, these kinds of operations are centered on going after groups whom the authorities were already well aware of. The reason for the raids is to appease the public that "something is being done" in the wake of the Paris attacks and to keep people afraid and willing to accept draconian surveillance laws.


At least two people were killed when Belgian counter-terrorist police raided an apartment used by suspected Islamist radicals on Thursday, local media said, describing a coordinated, national operation related to last week's attacks in Paris.
Judiciary officials confirmed only that a counter-terrorism operation took place near the centre of Verviers, a town in the east of the country between the city of Liege and the German border. They plan a news briefing at 8 p.m. (2.00 p.m. EST).
Public radio RTBF, which reported a number of other police actions in and around Brussels, said there were no casualties among the security forces. Two unidentified people were killed and a third seriously wounded. Several others were detained.
Earlier, prosecutors said they had detained a man in Belgium whom they suspected of supplying weaponry to Amedy Coulibaly, killer of four people at a Paris Jewish grocery last week.
In a report that could not be immediately confirmed, the Web site of
La Meuse
newspaper quoted an unidentified police officer saying: "We've averted a Belgian Charlie Hebdo."

Comment: That's always a nice claim to make, it makes for a good quote in the papers. It's quite convenient for the authorities to say that after they've completed their raids and without anything actually happening that would prove that to be true. It seems more than anything that this was done to keep the fear of the public high that there are still "Muslim radicals" operating in Europe so as to keep justifying the encroaching surveillance and security laws that are being touted around the EU as the way to solve the "terrorist problem".


Two French brothers, who like Coulibaly claimed allegiance to Islamists militants in the Middle East, killed 12 people last Wednesday, Jan. 7, at the Paris offices of satirical newspaper
Charlie Hebdo
.
RTBF said Thursday's operation in Verviers was intended to check on suspected radicals -- one of several being conducted across the country against people believed to have returned to Belgium after taking part in the Syrian civil war.
Belgium has seen significant radical Islamist activity among its Muslim population. RTBF said police raids were also under way in Brussels. Belga news agency said police were hunting a man who witnesses said had brandished a weapon and shouted religious slogans in Arabic at a Brussels metro station.
"Golden Croissant"
Local media said gunshots and several explosions were heard on a residential street in Verviers near the railway station and one photo posted by a witness on Twitter showed police vehicles and ambulances blocking the street. Police had raided an apartment above the Croissant d'Or bakery, RTBF said.
The channel showed video of a building at night lit up by flames, with the sound of shots being fired. A local resident named Marie-Laure told RTBF said she was in the street with her children when a police commando told them to run for cover.
"When we began running, we heard three or four big explosions and shots," she said. "It was really startling."
Per head of population, Belgium is the European country from where the highest number of citizens have taken part in fighting for Syrian rebels in the past four years, data compiled by security researchers have shown.
A court in Antwerp is due to deliver its verdict on 46 people accused of recruiting young men to join jihadists or of becoming jihadists in Syria, Belgium's largest Islamist militant trial to date. The court was to have given its verdict this week, but it was delayed for a month after the Paris violence.