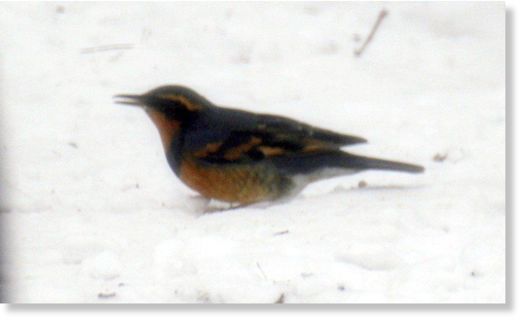 Neighbors probably wondered what's up at Jill and Gerald Binstock's place lately.
People with binoculars - one man stood in their backyard for an hour Saturday - have been showing up outside the rural Rapidan couple's home, obviously looking for something.
Area birdwatchers have been hoping to catch sight of a rare avian visitor to Minnesota. A male varied thrush first started to show up at the Binstocks' feeders Thursday.
"I was watching for the little wanderer," said one of the birders, Chad Heins, who is a biology instructor at Bethany Lutheran College in Mankato.
After an hour or so, Heins got his chance to observe the bird who resembles its cousin, the American robin, but has distinct orange markings near its eyes.
"He was eating cracked corn, but they will eat berries, suet or whatever they find."
Varied thrushes generally travel a winter route from Denali National Park in Alaska down through British Columbia and states on the West Coast,
Heins said. A solitary type of bird, the Binstocks' guest probably got in with a bunch of robins during his migration south.
"It's tough to go against the flock," Heins said, offering an explanation of how the thrush traveled all the way to southern Minnesota instead of Oregon.
Most likely, the bunch of birds settled for the night in rural Rapidan, but when the robins left in the morning, the thrush stayed in the protective pines near the Binstocks' deck.
Jill Binstock was the first to notice the different-looking bird eating along side the cardinals and chickadees who regularly dine at her feeders. She called her husband to come take a look.
"That's not a robin," Gerald Binstock said.
A friend's husband suggested the stranger was a varied thrush. He recommended the couple contact Heins.
This week's sighting is the fourth made in Blue Earth County in the past 10 years, Heins said.
"He was either off cycle or lost," said Marty Moen with the public relations department at the University of Minnesota's Bell Museum of Natural History.
Moen suggests the website moumn.org for people interested in recent rare bird sightings in the state.
Jill Binstock said their little visitor is pretty skittish and usually comes to the feeder once or twice a day. The couple's daughter was able to spot the thrush Sunday, but he was a no-show for a man who came looking for him Monday.
The couple does not plan to serve anything special to encourage their special visitor to stick around and they don't keep a list of who they serve at their feeders.
"We just like birds," Jill Binstock said.