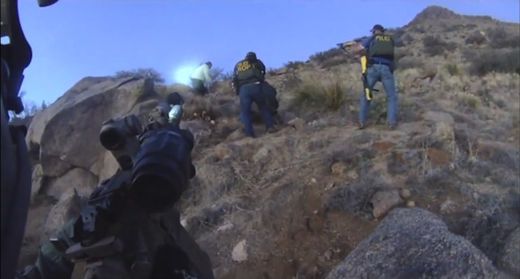 Two Albuquerque police officers were charged with murder Monday in the
March killing of a homeless camper
, a shooting that generated sometimes violent protests around the southwestern city and brought new scrutiny to the police department amid a federal investigation.
The shooting occurred during a year when police tactics came under intense scrutiny around the U.S., fueled by the fatal shooting of an
unarmed 18-year-old in Ferguson, Missouri,
and the chokehold death of another unarmed man in New York City. Grand juries declined to charge officers in those cases, leading to protests.
Albuquerque police said SWAT team member Dominique Perez and former detective Keith Sandy fatally shot 38-year-old James Boyd after a four-hour standoff in the foothills of the Sandia Mountains. Video from an officer's helmet camera showed Boyd,
who authorities say was mentally ill, appearing to surrender when officers opened fire
.
Accused of illegally camping, Boyd was armed with two small knives, the
Albuquerque Journal
reported.
"Unlike Ferguson and unlike in New York City, we're going to know. The public is going to have that information," said District Attorney Kari Brandenburg. She said she decided to bring murder charges and avoid a grand jury to heighten transparency.

Comment: We'll see how transparent the proceedings are.


Grand jury proceedings are closed to the public.
The
shooting prompted protests
critical of the Albuquerque police department, which the federal government found has used excessive force against civilians. The city is now subject to federal monitoring.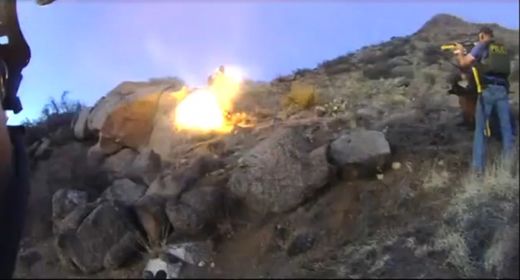 Monday's filing also comes amid a national debate over
police use of deadly force
, especially against black men.
"Keith, as a police officer, had not only the right, but the duty to defend a fellow officer from a mentally unstable, violent man wielding two knives," defense attorney Sam Bregman said in a statement. "Keith did nothing wrong. To the contrary, he followed his training and probably saved his fellow officer's life."
Bergman added that the officer had absolutely no criminal intent when he encountered the knife-wielding homeless man. He said the officer followed training procedures outlined by the police department.
Luis Robles, an attorney for Perez, said he was "confident that the facts will vindicate Officer Perez's actions in this case."
Boyd can be seen in a helmet camera video, released by the police department, attempting to comply with orders to come down from a location before the officers fire a flash grenade at him, the Albuquerque Journal reported.
An officer with a dog and another with a rifle then appear to close in on Boyd while ordering him to get down, later firing six rounds after Boyd appears to pull out small knives in both hands.
Wire services