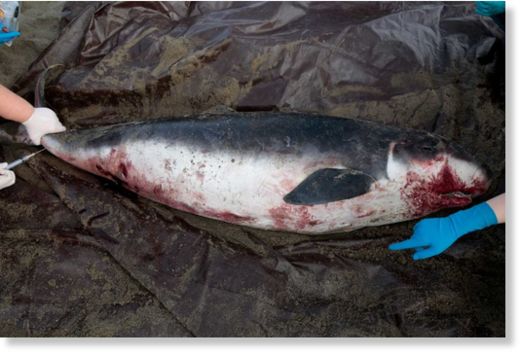 A beached whale, believed to be a pygmy sperm whale, ran ashore in Point Reyes National Seashore this week.
When Emily Klion and her three friends came upon the large, dying animal tossing in the surf at Point Reyes, they weren't sure what it was.
"People we saw said it was a dolphin. I thought it was a shark, though, because of the teeth," said Klion of Berkeley, who visited the isolated beach near Abbots Lagoon on Thursday while hiking at Point Reyes National Seashore.
"When we looked at it closer, it had a blowhole, so then we figured out it was a whale."
Scientists at the Marine Mammal Center in Sausalito confirmed Friday, after waiting for daybreak to hike to the beach, that the ailing critter was indeed a young, rarely sighted pygmy sperm whale.
It's a species of toothed whale that doesn't often show itself to humans, preferring to hunt octopus, shrimp and small fish in the very deep sea.
Its most unusual feature, perhaps, is its ability to eject a reddish-brown fluid, often called ink, to hide from predators.
Once ashore at Point Reyes, the whale may have been beyond saving. While Klion and her friends tried to push the roughly 6-foot, 300-pound male back to sea, it kept floating back to shore, she said. Marine Mammal Center officials who arrived at the site with specialists from the park and California Academy of Sciences on Friday morning said the animal was dead.
"It had been making sounds. Its eyes were open. It looked at us," Klion said. "It was really sad to see it struggle."
The team of marine mammal experts transported the whale to facilities in the Bay Area, where it was scheduled to be examined - and a cause of death determined.
A preliminary review Friday suggested the whale was sick and too weak to swim, said Cara Field, a veterinarian for the Marine Mammal Center.
"There are no signs of obvious trauma," Field said, which probably rules out other common causes of death like shark attack or collision with a boat.
The whale, based principally on its size, is believed to be young, but not a dependent calf. The whales typically grow to 1,000 pounds and up to 13 feet.
Its squid-like ink was oozing from its body Friday. Lots of scratches were on its surface from scavenger birds. The animal was also badly bruised. Exactly when the whale beached itself is not clear, but reports of the stranded animal came in Thursday afternoon.
Before this week, the Marine Mammal Center had responded to six stranded pygmy sperm whales since 1987, none of which survived, said Shelbi Stoudt, a stranding and data manager at the center. Only one of the whales was well enough to transport to a rehabilitation unit for medical care, but it ultimately died.
Whales often run aground when they're too sick or injured to float. Efforts to push them back in the water, as Klion learned, are largely futile.
Despite the sad ending to the whale tale, Klion described her experience this week as magical.
"People go whale watching for hours and just scan the horizon looking for whales," she said, "but we got to be with one."