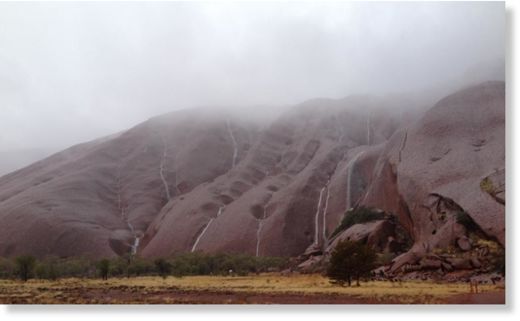 South Australian towns have been told to expect up to 15 times their monthly rainfall in the coming days
, and there are severe weather warnings in place for several states and territories.
In Alice Springs, Northern Territory emergency services have found a body after a search for a 24-year-old man who was swept away while tubing in the swollen Todd River on Thursday.
Police told
Guardian Australia
they have not confirmed the identity of the man found or spoken with next of kin yet.
The Todd began flowing on Thursday for the first time since April after heavy rains dumped more than 100mm in its catchment area. The shallow river bed is generally dry for most, if not all, of the year.
Visitors to Uluru were treated to the rare sight of rain running off the massive monolith in rivulets and mini waterfalls.
Flood warnings are in place for inland rivers and there is a severe weather warning for the Simpson, Lasseter and Tanami districts of the Northern Territory.
Parts of South Australia are also on flood watch as a large low crosses the state just days after devastating bushfires in the Adelaide Hills, prompting a severe weather warning.
Heavy rainfall and local thunderstorms were expected. Affected locations included Marla, Oodnadatta, Marree, Roxby Downs, Hawker, Whyalla, Port Augusta and Port Pirie.
A senior hydrologist at the Bureau of Meteorology (Bom), Yves Bessard, told
Guardian Australia
the heavy rains were unusual.
"It's very unusual to have tropical moisture going right through the country,
" Bessard said.
"I think for South Australia it may be the biggest rainfall in 30 years ... In the northern part of South Australia we have had 120mm of rainfall in the past 24 to 48 hours and there is potential to have 50 to 100 more in the next few days."
He said the Bom would release a flood watch for parts of northern Victoria as it experienced its own intense weather before the South Australian rains moved east, but those are expected to weaken before they reach the eastern state.
He urged people to take care, particularly around flooded waterways.
"Of course, do not to attempt to cross rivers in floods is the usual advice given," he said. "Don't drive, ride or walk through floodwaters."
A tropical low over the Kimberley region in Western Australia was pushing humidity and rains over the southeast, a senior Bom meteorologist Craig Burke told ABC24.
A severe wind and heavy rain warning was in place for the Kimberley and northern interior districts, including several flood warnings.
The northern monsoon season, combined with an upper trough developing over western parts of South Australia is behind the unusual rain pattern.
"When things line up the way they are doing at the moment you can see some impressive rainfall," Burke said.
The heaviest rain is expected over central Australia and the pastoral areas of South Australia, but was also due to move over Victoria, where a cleanup was continuing after wild storms on Thursday.
More heavy rains are predicted at the weekend, and Melbourne may see its wettest day since 2011. The rain is expected to help the battle against fires in the northwest of the state, where some advice warnings remain in place.
Far north Queensland was standing by for the first cyclone of the season off the coast this weekend. The bureau was watching two tropical lows, one off Papua New Guinea and another over the Solomon Islands.
A senior forecaster, Jonty Hall, told the ABC if one developed into a cyclone it would be called Lam. There was a low chance of development on Saturday, and a 50% chance on Sunday, he said.