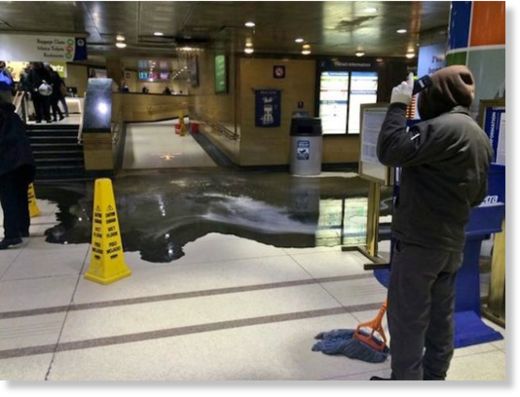 Comment: One has to wonder, if it was a burst pipe that caused this, just why was the water black?


The bitterly cold weather may be to blame for a burst pipe that spilled dark-colored water onto part of Union Station Tuesday afternoon. Train service was not affected.
BREAKING: Mystery substance pouring out of ceiling in Union Station near Metra's south concourse. @OnTheMetrapic.twitter.com/GpvxZW0Bff

- Ben Bradley (@BenBradleyABC7) January 6, 2015
The pipe leading to a sprinkler in the south concourse of Union Station burst about 3:15 p.m., Amtrak spokesman Marc Magliari said.
"There was an issue perhaps related to the extreme cold in the station that caused the pipe to break," Magliari said.
Union Station leak has stopped, crews working to clean up "mystery liquid" in Metra's south concourse. pic.twitter.com/w5nhmX27WU

- Ben Bradley (@BenBradleyABC7) January 6, 2015
Crews cleaned up the spill within 15 minutes, and there was no impact on train service during the afternoon rush, he said.