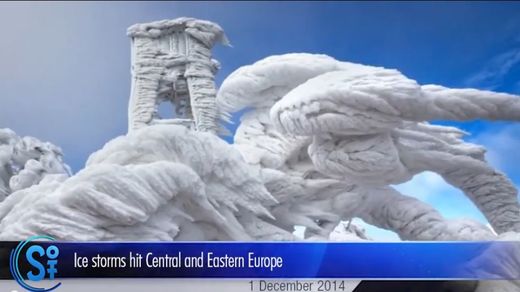 Mother Nature was apparently determined to see out 2014 with a bang, ramping up the extreme weather and Earth Changes in December. Snowstorms buried cities in Russia's Far east and Northeastern China, where a waterfall on the Yellow River partially froze. Japan was hit with record-breaking snowfall for the second time in a year, while a deep freeze in Northern India claimed at least 150 lives.
A week of non-stop electrical storms brought hail, flooding and widespread damage to Sydney, Australia, while a huge sinkhole swallowed three cars in Melbourne. Fish and whales continue to turn up dead in large numbers on coastlines and in freshwater lakes and rivers, thanks in part to increased volcanic activity, demonstrated above ground in December via eruptions in Indonesia, Mexico, Iceland, Cape Verde, Hawaii and Japan.
Drought-stricken Sao Paulo was inundated with rain, turning streets into rivers. Waterspouts appeared in Australia and the Mediterranean, a tornado hit downtown LA for the first time in decades, while another 'unseasonal' tornado outbreak in the U.S. South killed 5 and left dozens homeless. The "worst flooding in decades" hit Southeast Asia, especially Malaysia and Sri Lanka, where some quarter million people had to evacuate their homes.
A trail of storms pummelled the US West Coast, with landslides, mudslides, blizzards, and flash-flooding washing away homes and roads. Across the Atlantic, a so-called 'weather bomb' hit the UK and Ireland, bringing monster waves and hurricane-force winds. This was followed by a big freeze that brought blizzards to Western Europe, the Balkans and the Mediterranean, where Malta received its first snow in over a half-century.
Spectacular meteor fireballs were filmed over Puerto Rico, Brazil, the US, Canada, Spain, and Japan. So-called 'mystery' booms shook homes in communities from the US to the UK. An incredible UFO sighting in Santiago, Chile, and the appearance of a bright glowing 'plasma light' over Lima, Peru rang in the New Year.
Buckle up for 2015; it's gonna be 'interesting'!
Not a Youtuber? Watch it on
SOTT.net's Vimeo channel
:
Music used: 'Escape from the Temple' by Per Kiilstofte. Licensed under Creative Commons Attribution 4.0 International
To understand what's going on, check out our recently published book,
Earth Changes and the Human-Cosmic Connection
, available
here
.
Check out previous installments in this series - now translated into multiple languages - and more videos from SOTT Media
here
or
here
.
You can help us chronicle the signs of the times by sending video suggestions to sott@sott.net
Knowledge protects, ignorance endangers