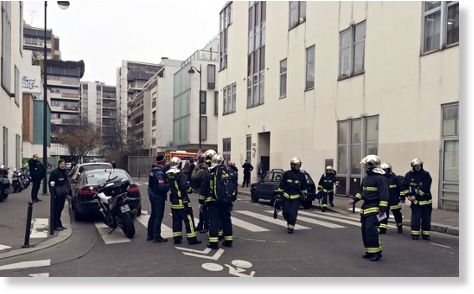 Eleven people were killed and 10 people wounded, five of them seriously, in the shooting in eastern Paris
Eleven people were killed and 10 injured in shooting at the Paris offices of the satirical weekly
Charlie Hebdo
, already the target of a firebombing in 2011 after publishing cartoons deriding Islam's Prophet Mohammad on its cover, police spokesman said.
Five of the injured were in a critical condition, said the spokesman.
Separately, the government said it was raising France's national security level to the highest notch.
French TV channel iTELE quoted a witness as saying he saw the incident from a building nearby in the heart of the French capital.
"About a half an hour ago two black-hooded men entered the building with Kalashnikovs (guns)," Benoit Bringer told the station. "A few minutes later we heard lots of shots," he said, adding that the men were then seen fleeing the building.
French President Francois Hollande will go to the scene of a shooting at satirical magazine and then hold an emergency government meeting, a source at his office said on Wednesday.