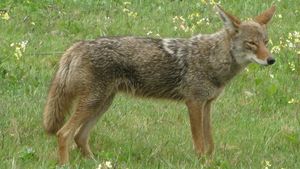 A coyote attacked at least two people outside their homes in a northern Massachusetts town on Monday night,
sending one man to hospital with bite wounds
, according to local police.
The Groveland police department issued a warning on Tuesday to residents of the town located about 35 miles north of Boston, saying the animal is on the loose and likely to have rabies.
"We are asking all residents to be watchful and when outside use extra care for your safety and the safety of your children and pets," said deputy chief Jeffrey Gillen.
Coyote attacks on humans are generally rare, but
incidents have increased in some parts of the country in recent years
alongside suburban encroachment on wild areas.
Police said the coyote bit one man as he was entering his home with his 4-year-old daughter, leading him to seek emergency treatment at a local hospital.
The coyote later attacked another homeowner in his front yard. That resident "had to kick the animal several times before it left the area," the police said in a press release.