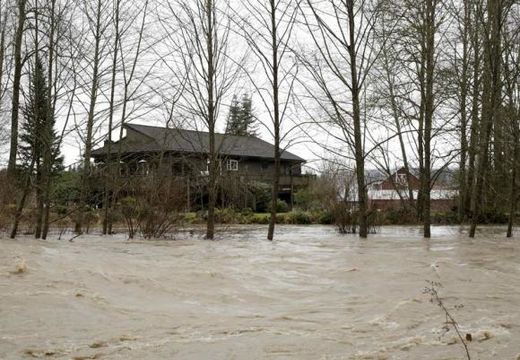 An
unusual burst of heavy rainfall in western Washington state caused landslides and flooding early on Monday,
knocking three homes off foundations and forcing the evacuation of a nursing home, officials said.
Several landslides in rain-soaked coastal Grays Harbor County pushed muddy floodwater and debris across key state highways, county and rural roads, most of which remained closed at nightfall in and around Aberdeen and Hoquiam, the county's largest cities.
"It's not one of these snow-melt events, it's the inundation of rain over the last 24 hours,"
said Dave Porter, a spokesman for the Grays Harbor County Sheriff's Office, adding no injuries have been reported.
Drier forecasts for Monday night and Tuesday could aide emergency crews working to clear roadways, although it was uncertain when roads would be re-open, Porter said.
Officials warned of possible severe flooding for downtown Aberdeen and other areas with high-tide early on Tuesday.
In Hoquiam, where
7 inches of rain fell in 24 hours,
some 60 nursing home residents were ordered to leave due to flooding, Porter said. Officials at local schools, including Grays Harbor College, canceled classes and sporting events.
Outside of Seattle, in the Fall City area, two people died and one suffered non-life-threatening injuries after a car crash, the King County Sheriff's Office said on Twitter.
There was no word on the cause of the crash but broadcast images showed a car and a truck with their fronts smashed near a guardrail of a turning, rain-slicked roadway.
Several roads would be closed due to flooding in Snohomish County, northeast of Seattle, and a flood warning was declared through Wednesday evening for the Snohomish River, the county sheriff said on Twitter.
Some 1,000 customers were without power on Monday morning in Seattle-area communities, local media reported, citing Puget Sound Energy
. About 50 customers remained without power by nightfall, the utility's website said.