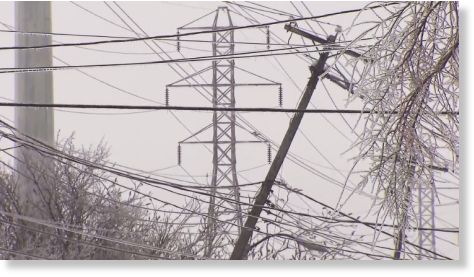 As of 4 p.m. ET on Sunday, more than 150,000 Hydro-Québec customers were without electricity on and around the island of Montreal after freezing rain encased southern Quebec in ice.
The power failures began on Sunday afternoon and affected small pockets around the greater Montreal region.
However, by late afternoon the blackouts were widespread across Montreal, the Montérégie (South Shore and areas west of the island of Montreal), the Richelieu Valley and elsewhere in southern Quebec.
Hydro-Québec spokeswoman Elaine Beaulieu said many of the power failures are due to fallen branches.
"Our crews are presently patrolling to find out where the power outages are and trying to restore the power as soon as possible. It's mainly due to the weather conditions," Beaulieu said.
Some Hydro poles and wires seemed to bow to the weight of the ice. Tree branches snapped and fell to the sidewalks and roads below in the Montreal region as the day wore on.
Snow-clearing and plummeting temperatures
Montreal spokesman Jacques Alain Lavallée said 1,000 pieces of snow-removal equipment and 1,000 city workers driving them are out in full force, trying to clear roads and sidewalks and lay down abrasives.
He said the city expects the entire clean-up operation related to this weekend's storm will cost $20 million.
Even so, the roads in and around Montreal are currently extremely slippery.
Transports Québec is cautioning drivers to drive slowly and carefully, and to keep a safe distance from snow-removal machines.
Temperatures are expected to drop by more than 10 degrees on Sunday evening and overnight into Monday.
Environment Canada says winds could gust up to 80 kilometres an hour, as well.
Dangerous driving conditions
Freezing rain on top of 20 centimetres of snow created treacherous road conditions in much of Quebec.
The snow began falling Saturday afternoon and continued overnight. It turned to freezing rain by early Sunday morning, causing the snow to turn to crunchy ice.
The mixed precipitation has made for particularly slippery roads.
Drivers in the greater Montreal region, including in Laval and on the South Shore, have been spotted pulling off to the side of the road to scrape ice off their windshields that formed while driving before continuing along the highways.
The Sûreté du Québec said dozens of vehicles have pulled off the road as drivers grapple with the ice.
Environment Canada warns against travel
Many flights into and out of the Montreal-Trudeau airport have been delayed or cancelled due to weather.
Via Rail reported on Sunday morning that their trains were running on schedule, but that it was experiencing an increase in demand for its Quebec City-Windsor corridor. The rail company attributed the increase to people not wanting to travel on roads or by airplane.
"Consider postponing non-essential travel until conditions improve. Prepare for quickly changing and deteriorating travel conditions," warned Environment Canada.
The weather agency has issued weather warnings for the southern half of the province.
Warnings in different pockets of Quebec include extreme cold, freezing rain, snow squalls, reduced visibility and wind.