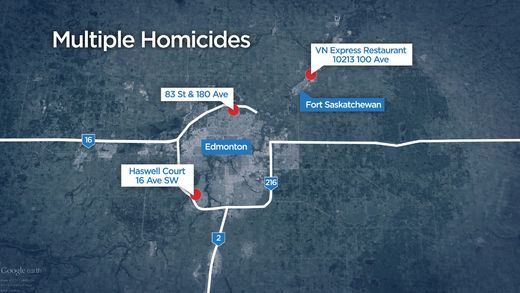 Edmonton police have identified the victims in this week's mass murder, saying Phu Lam's shooting rampage claimed the life of his wife, several of her family members - including her eight-year-old son and three-year old niece - and a family friend.
Lam, who took his own life after the killings, appears to have spared the lives of a one-year-old and an eight-month-old baby who may have been in the north Edmonton home at the time of the deadly attack.
Lam's wife, Thuy Tien Truong, 35, was slain along with her son, her sister, her parents, her niece and a friend at a north Edmonton home between 3:45 a.m. and 8 a.m. on Sunday, police said Friday.
Police identified the victims after Thursday's autopsies, but noted they were still struggling to figure out the motive behind the shocking slayings. Truong and Lam may have been estranged, Acting Deputy Chief Mark Neufeld said at a news conference Friday.
"We will chase down everything we can to try and find out the reasons why, because I think it's important - but at the end of the day you try to import rational thought sometimes into an irrational act, and a lot of times it just never comes," he said.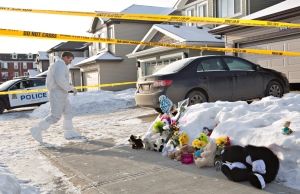 Cyndi Duong, 37, was killed at her southwest Edmonton home around 6:50 p.m. Monday. She was not the intended target of the shooter.
Lam was found dead of an apparent suicide in a restaurant in Fort Saskatchewan on Tuesday morning.Police didn't find the bodies of people in the north-end home until 12:23 a.m. Tuesday.
Neufeld said that on Monday, around 10 a.m., Lam dropped off two children - his one-year-old daughter and eight-month-old nephew - at the home of a relative, the person who later contacted police.
"The homicides, we believe, did take place prior to Mr. Lam dropping off those two children," Neufeld said.
"So there's a very good possibility that those two young children were in the house, in the north end, when the homicides took place. And yes, for whatever reason, the two children were spared."
The victims are:
Thuy Tien Truong, 35, wife of Phu Lam (known as Tien Truong).
Elvis Lam, 8, son of Thuy Tien Truong.
Thanh Ha Thi Truong, 33, sister of Thuy Tien Truong(known as Ha Truong).
Valentina Nguyen, 3, daughter of Ha Thi Truong, niece of Tien Truong.
​Thi Dau Le, 55, mother of Thuy Tien and Thanh Ha Thi Truong.
Van Dang Truong, 55, estranged husband of Thi Dau Le and father of Thuy Tien and Thanh Ha Thi Truong.
Viet Nguyen, 41, friend of Thuy Tien Truong.
Cyndi Duong, 37. Police believe she was not the intended victim of the shooter.
The Edmonton Catholic School District confirmed that Elvis Lam was a Grade 3 student at Bishop Greschuk Elementary school in north Edmonton.
"His teachers describe Elvis as a quiet and kind student who will be missed tremendously by his peers and the staff of Bishop Greschuk," spokesperson Dana Prefontaine said in a written statement. "Elvis attended the school for the past two years."
A critical response team will be on hand when classes start on Monday to help staff and students.
Neufeld also outlined the timeline of the case. Tien Truong finished her last shift at work at 2 a.m. Sunday. Her sister Ha Truong sent a text message from the north-end home at 3:45.
Tien Truong and her mother failed to show up at work at 8 a.m. Sunday. When Ha Truong's estranged husband knocked on the door at that time, no one answered. He also noticed a black SUV parked outside.
The black SUV was seen briefly outside the home around 9:45 a.m. Monday. Lam dropped off the two younger children at a relative's home 15 minutes later.
Later that afternoon, Lam went to a home in southwest Edmonton. He left around 6 p.m. and went to the home of Cyndi Duong. Duong was shot and killed around 6:50 p.m. Police found her shortly afterwards while responding to a weapons complaint.
Neufeld said the manhunt started around 11 p.m. Monday. The SUV led police to the VN Express Restaurant in Fort Saskatchewan, he said.
The gun used in the slayings was registered in British Columbia in 1997 and stolen from Surrey in 2006. Police are investigating how Lam was able to obtain it.
Abuse, threats
Earlier on Friday, CBC obtained court documents showing that Lam threatened to kill Tien Truong and her whole family in 2012.
Truong gave the testimony in an emergency protection hearing in November 2012.
The documents say that Lam learned through genetic tests that he was not the biological father of his son, who was born in 2006.
Truong said that Lam physically abused and choked her on Nov. 2, 2012, after presenting the DNA results to her parents.
Following a hearing four days later, she was granted an emergency protection order that prevented Lam from going within 200 metres of her parents' home and not to have direct contact with her, her son, her sister and her parents.
In her video testimony, Truong said Lam planned to kill her whole family two weeks earlier and kept making the threats. He was going to look for a gun, but no one would sell one to him, she said.
She testified through a interpreter that he had abused and choked her several times throughout their marriage; at one point she said she nearly died. He also terrorized her with threats.
"He would threaten her to say that he would give her the phone, tell her to call the cops and then kill her on the spot so when the cops come that they would be there to pick up her body," the interpreter said.
She testified that she wanted to move back with her parents.
The protection order was granted until Nov. 26, but extended into January 2013. The order was revoked when neither Lam nor his wife appeared in court for a review on Jan. 18, 2013, the expiry date on the order.
Lam was charged with assault, sexual assault and seven counts of uttering death threats in November 2012 but the charges were stayed on Dec. 21, 2012.
Neufeld confirmed that some of the people targeted in those threats were slain in the north end home.
Statements in 2012 case recanted
In a statement, Michelle Doyle, acting assistant deputy minister of the Alberta Crown Prosecution Service, said the prosecutors concluded that there was no reasonable likelihood of conviction after the complainant and witnesses recanted or changed their original statements made to police.
"The Crown opposed Mr. Lam's release from custody, and his release was denied by a Provincial Court Judge," Doyle said.
"The investigation into these allegations was conducted by members of the Edmonton Police Service. It was thorough and comprehensive. All available supports were offered and made available to the complainants in this matter."
Lam, who was 53 when he died, came to Canada from Vietnam in 1979. He met his wife, who was 18 years younger, on a trip to Vietnam in 2000. The couple married six months later and she came to Canada in 2003.
Documents reveal that Lam also had significant financial problems.
He filed for bankruptcy in February 2013 with $365,000 in secured debt and $116,296 in unsecured debt, mostly from more than a dozen credit cards.
Documents list gambling as the cause. Lam completed an intensive gambling recovery program in May 2014.