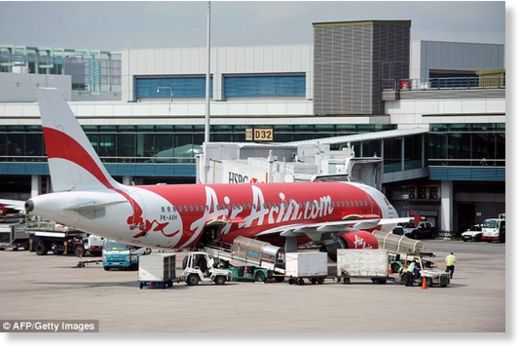 Almost an entire plane-load of passengers refused to re-board an AirAsia jet after one of the engines struck a problem as it started to taxi at Surabaya airport, it was reported today.
It was the same airline that lost an Airbus last weekend as it flew from Surabaya to Singapore with the presumed loss of all 162 passengers and crew.
As search teams reporting seeing a fifth large object at the bottom of the Java Sea which might be parts of the missing plane, the new drama involving an engine was the kind of news the airline did not want.
The aircraft had taxied just 3 metres at Surabaya's Juanda International Airport when one of the engines died with a loud bang, Indonesia's Metro TV reported.
The plane, bound for Bandung, Indonesia, made it back to the gate without any further problems and the 120 passengers were asked to disembark.
Mr Yusuf said the airline told passengers later that the flight would be resumed after the problem had been addressed.
But he claimed that about 90 per cent of the passengers refused to get back on board, fearing that the fault would re-occur during the flight.
Those who declined to get back on the plane had their fares refunded, Metro TV said.
Another three bodies were recovered from flight QZ8501 today, bringing the total number so far to 34.