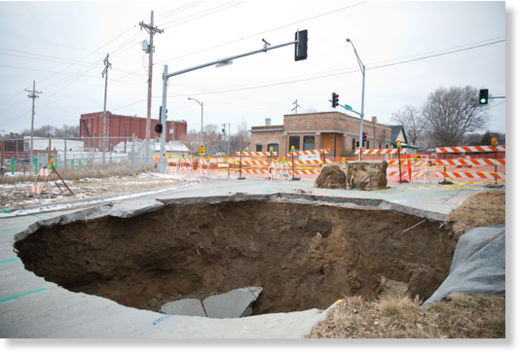 A large portion of Pierce Street near 20th Street caved in on New Year's Day, exposing a hole 15 feet deep.
The sinkhole spans both lanes of traffic, an estimated 25 feet in diameter, said Craig Christians, manager of Omaha's sewer maintenance division.
"This cave in is on a much bigger scale than we usually see," Christians said. "A big one like this we don't see very often."
The city shut down Pierce Street east of 20th Street on Christmas Day after someone noticed the street sagging, he said. Pierce is 12 blocks south of Dodge Street.
Maintenance workers who opened a manhole cover discovered that a brick manhole, more than 100 years old, had collapsed, allowing water to wash out the soil underneath the street.
Christians said a hole at the bottom of the manhole likely started everything.
City workers monitoring the street on New Year's Day saw the giant hole for the first time.
"The pavement, under its own weight and (with) no support under it, collapsed," Christians said.
Because the hole is so deep, Christians said, it could take months to repair the street.
The last major sinkhole Christians could remember was at the intersection of 20th and Farnam Streets. A leaking pipe caused that sinkhole, which spanned about a quarter of the intersection.