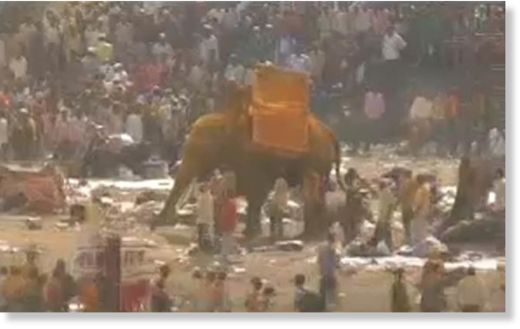 One woman was killed and another injured when a temple elephant went out of control during a temple procession in Maharashtra on Saturday. The incident took place in Pali village of Satara District, during a procession to celebrate the regionally popular Khandoba festival. Three lakh people were part of the procession and many had a lucky escape.
"There was a huge crowd. Two women were injured and amongst them one woman died. People were running helter-skelter to save their lives and that is when the accident took place," Police Sub-Inspector Mohan Tawde told reporters
"We were sitting in one place.
Suddenly the elephant went out of control and trampled people," said an eyewitness.

Another eyewitness said, "The elephant suddenly charged towards us. People ran and in the chaos my son got hurt in the leg."
The incident once again brings to light the dangers of keeping elephants in captivity and using them in religious and marriage processions. While this a common practice in India it often leads to stress for pachyderms and lead to accidents.