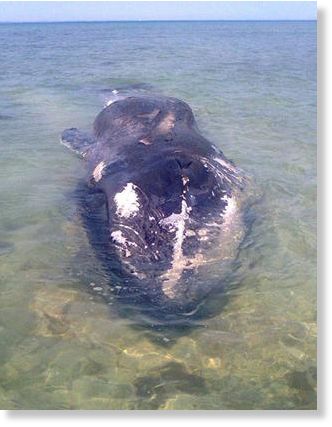 A giant Blue Whale was found washed ashore on Valai island, one of the 21 islands in the Gulf of Mannar region.
Wildlife Warden, Gulf of Mannar Marine National Park, Deepak Bilgi said the marine mammal was found dead near the shore of the island two days back and initial studies revealed that it had died long back.
As the whale was found away from the shore, post-mortem could not be conducted immediately, he said, adding the whale was expected to hit the shore on Friday. A veterinary surgeon would be taken to the island, situated six km off Devipattinam near here, for conducting the post-mortem, he said.
The whale, measuring about 50 feet length, could weigh about six tonnes. The cause of the death would be known only after the post-mortem, he added.
Fishermen from Vedalai alerted the forest officials on Tuesday about 'some giant black object' floating near Valai island. Anti-poaching watchers swam close to the "object" and found it to be a whale, sources in the forest department said.
The carcass was found stuck in sand, the sources said. Anti-poaching watchers and guards were posted at the island for security.
They were constantly sending reports about the 'movement' of the dead whale to the higher officials, the sources added.