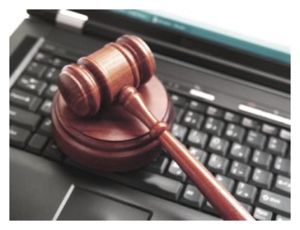 In what might be the slowest tech news week of the year, there's a weird tidbit out of New Jersey. A U.S. District Judge
has ruled
that cops are allowed to create fake identities on Instagram to follow suspects. As we've seen in the past, criminals occasionally post evidence of their crimes on social media applications, and image-heavy Instagram is no different.
The ruling came about after police officers befriended a serial burglar - Daniel Gatson - on Instagram. The person had posted shots of certain wares,
described in the opinion
as "large amounts of cash and jewelry, which were quite possibly the proceeds from the specified federal offenses." He protected his Instagram account, so you had to request to follow him to see the content, and the officers created a fake account to get that access.
They used the picture evidence to obtain a search warrant for Gatson's home. In return, Gatson tried to get the evidence thrown out, saying it violated his
Fourth Amendment Rights
. The judge wasn't buying it, because Gatson approved the agent's friend request. "No search warrant is required for the consensual sharing of this type of information," the Court
said in its opinion
.
This is, of course, not the first time that social media and the law have intersected. Agents, officers, and lawyers have used Facebook, Twitter, and other social sites to gather intel and evidence in cases, resulting in varying degrees of public outrage. The DEA
was scolded by Facebook
this past October after it came to light that the agency
had taken an arrested woman's photos
from her phone and used them to create a fake profile in the hopes of gathering intel from her contacts. The case hasn't gone to trial yet.
In August last year, Oakland prosecutors
were able to up a man's charge
from vehicular manslaughter to murder using some of his morbid tweets. Some courts have even ruled that a plaintiff
had to hand over his Facebook password
to a defendant so content on the site could be used as evidence.
But a legal expert who spoke to Ars Technica about the case said they believe this
might be the first incident
involving Instagram.