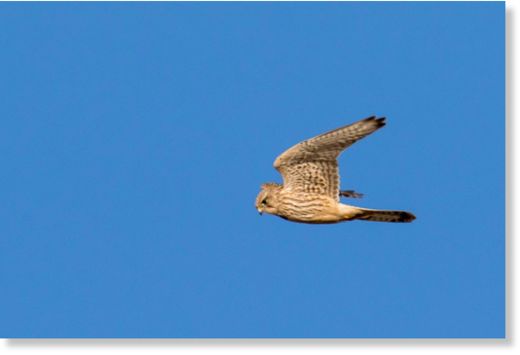 Bird watchers in Nova Scotia are being treated to a rare sight.
Birders are flocking to Hartlen Point in Eastern Passage to try and catch a glimpse of a rare Eurasian kestrel. The bird was first spotted in the Eastern Passage area in November and is still there.
Blake Maybank with the Nova Scotia Bird Society says it's a male.
"Presumably this bird just got caught up in the wrong weather, not a storm per se, but they tend to follow tailwinds and it got carried over, but when, we can't be sure," he said.
Maybank was one of many bird watchers in Eastern Passage on Tuesday hoping to catch a glimpse of the rare sight. He found the Eurasian kestrel lunching in a spruce tree.
According to the National Audubon Society, the birds are larger than their North American cousins, American kestrels.
Eurasian kestrels are quite common across their home range of Europe, Asia and parts of Africa,
but are very rarely seen in North America.
The last time a Eurasian kestrel sighting was recorded in Canada was back in 1988 near Amherst.
John Loch of Eastern Passage made the trip to see the bird then, but never did see it. He had better luck Tuesday.
"I've worked pretty hard the last few days to try to see it and finally David called me to tell me it was here and I'm really pleased," Loch said. "It's a beautiful bird, it's a little immature but it's got beautiful markings."
David Currie, with the Nova Scotia Bird Society, says news of the kestrel sighting has spread.
"We had people in from Quebec yesterday and people in from Maine as well," he said. "I've been contacted and I understand there are more people from the U.S. coming here."